---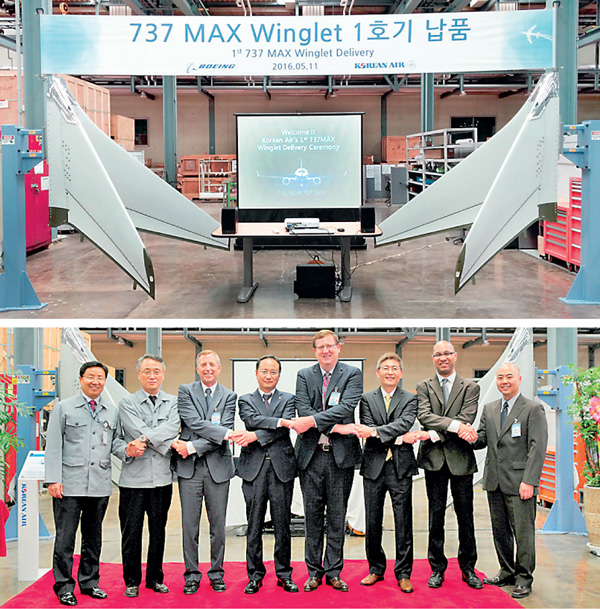 Korean Air commences supplying Advanced Technology Winglets for Boeing 737 MAX, one of the Boeing 737 Next Generation series, advancing the development of the wing core parts for the aircraft.

Korean Air hosted a commemorative event at its Tech Centre in Busan on May 11 to celebrate delivering the first B737 MAX winglet. Korean Air Aerospace Division Senior Vice President Ham Myeong-rae participated in the event, together with representatives from Korean Air and Boeing. B737 MAX is characterized by its high fuel efficiency and long range of about 6,500 km. The aircraft has already recorded over 3,000 orders from 64 clients around the world.

The winglet, featuring a split tip, will be installed on B737 MAX's three-meter long wings which can play a role to increase the wing length, reduce resistance and improve fuel efficiency by 1.5 percent.
The production of B737 MAX Advanced Technology Winglets requires various cutting-edge technologies, such as fabrication technique for Co-cured Blades, ultraprecision machining system and non-destructive inspection.

Korean Air has set up a task force comprising of specialists to take charge of the project and perform various tests, ensuring the maturity of technologies and identifying solutions to different problems. After years of development, Korean Air finally constructed a mass production system for the winglets.

Following the first B737 MAX winglet delivery, Korean Air will be supplying 2,400 units of B737 MAX winglets for several years.

Korean Air has played a major role in components manufacturing for both Boeing and Airbus, the world's most famous aircraft manufacturers. The airline has participated in development of B787's major components, including the composite rear fuselage of the aircraft and the raked wing tips. Furthermore, Korean Air has demonstrated its outstanding manufacturing ability of complex composite aerostructures by producing cargo doors for A350 and Sharklets for A320.