---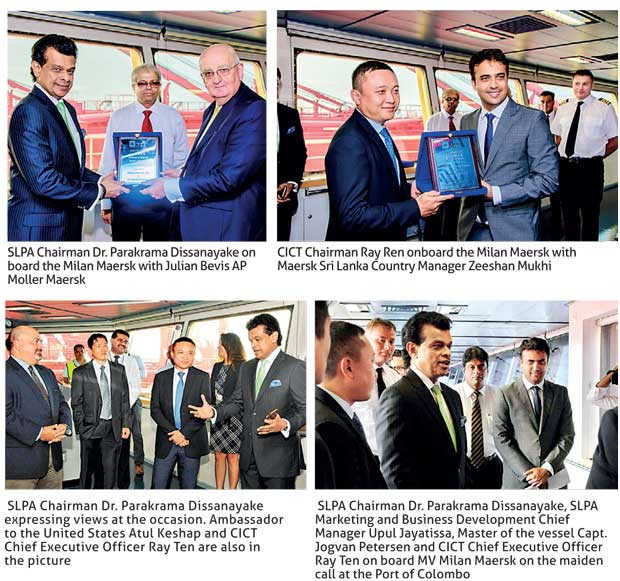 The biggest ever container vessel to call South Asia, MV Milan Maersk of the Maersk Line made her maiden call at the Port of Colombo.

The mega container carrier was berthed at the Colombo International Container Terminal (CICT). To mark the maiden call of the vessel at the Port of Colombo, plaques were exchanged with the Master of the vessel Capt. Jogvan Petersen, Sri Lanka Ports Authority (SLPA), the CICT and the Maersk Line.

MV Milan Maersk is one of the world's largest container vessels that has been built this year and owned by Maersk Line. Currently, it sails under the flag of Denmark. The ship is of 399 metres overall length and a beam of 58 metres with 20,568 TEU capacity. The gross tonnage is
212400 tonnes.

Expressing views at the occasion, Ambassador to the United States Atul Keshap stated that the Port of Colombo was of key importance for the overall prosperity and happiness of all Sri Lankans. "The efficient contributions in maritime operations by the Port of Colombo have made this port a very much important shipping and transshipment centre in the Indian Ocean. The US Ambassador also stated that the United States, in collaboration with all possible authorities was working ahead to ensure the Port of Colombo a much safer maritime center for all the shippers.

Sri Lanka Ports Authority (SLPA) Chairman Dr. Parakrama Dissanayake speaking at the event, thanked the Maersk Line for the confidence placed in Colombo by inducting one of the largest container vessels of the Maersk Fleet to Colombo South Harbour. He also said that Maersk line had been synonymous with the growth of the Port of Colombo. "We hope that Maersk will continue to grow the volumes of the Port of Colombo," he said.

Maersk Line India (Pvt.) Ltd Group Relations South Asia Senior Director Julian Bevis speaking at the occasion stated that it was courageous to see the SLPA developing the Port of Colombo in keeping its nose in front in terms of competition, to provide operators the excellent service it offered.

MV Milan Maersk that marked its maiden call at the Port of Colombo as a part of the AE 1 Service which, at present, is the fastest service from Colombo into major North European countries such as the UK, Netherlands and Germany.

The Maersk Line, the owner and operator of the Maersk Fleet with a presence in Sri Lanka for more than 25 years has continued to invest in the country to contribute its economy by bringing some of their latest and largest container vessels to Colombo.

Representatives of SLPA including its Managing Director H.D.A.S. Premachandra, Harbour Master Capt. Athula Hewavitarana, Senior Deputy Harbour Master Capt. K.M.N.P. Silva, Marketing and Business Development Chief Manager Upul Jayatissa, representatives of the CICT including Chief Executive Officer Ray Ten, Chief Business Development Officer Tissa Wickramasinghe, Commercial and Marketing Head Catriona Jayasundara and Operations General Manager Kumara Siriwardane were also present at the occasion.