---
A Kadawara Pooja Shanthikarma had been conducted at a special place in the sacred precincts of Kataragama Maha Devalaya recently to invoke the divine intervention for the re-election of a very high political authority.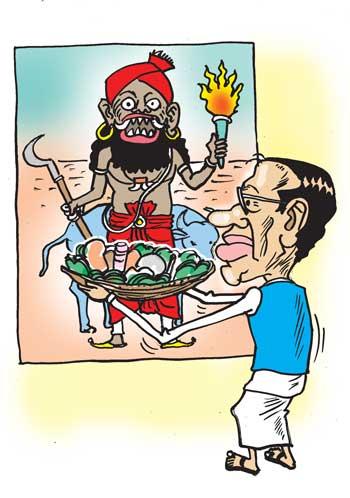 The political high authority himself had been present at this Shanthikarma organized by a certain 'Suriya' who once made a strong presence in the media scene.

By the way, this pooja was the second ritual to have been conducted to invoke divine blessings on the high authority within a fortnight. For, the first ritual – a yaga – covering three consecutive nights was conducted in the precincts by some priests got down from India. The high authority's son himself had taken the initiative to conduct this yaga.

Kadawara though referred to as a 'deviyo' (deity) is a powerful demon (yaksha) closely associated with God Kataragama according to Sinhala folklore.