---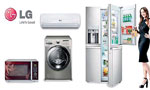 When you think of Home Appliances, if the brand LG does not come to your mind instantly, then you are obviouslyignorant of the advanced research and modern technological developments in LG's innovative Home Appliances that have made them market leaders globally as well as in Sri Lanka.
LG also has the widest range of Electronics, Home Appliances and Entertainment Systems than any other internationally recognized brand. Appliances are that conform to the highest norms of quality, durability and safety with special emphasis to health, energy saving and environmental protection.
Abans is the sole agent in Sri Lanka for LG Electronics of Korea. Abans showcase the wide range of LG products through a network of showrooms and authorized dealers, conveniently located in every town and city in Sri Lanka, bringing the products within everyone's reach. They also make the products affordable to consumers from all walks of life with easy payment terms and Hire Purchase terms.

The LG Refrigerator range has over 35 different models to choose from. From the smallest Mini Bar, single and double door Refrigerators with innovative Green Ion Door Cooling Technology (GIDC) to giant Side-by-Side Refrigerators, there's always one to match your requirement. And now, LG presents the latest Triple Inverter Refrigerator in attractive floral designs with three advanced and innovative features – Smart Inverter Compressor which reduces your electricity bill by 36 percent, Inverter Evercool Function with built-in standby power up to 10 hours during power cut and Inverter EcoFriendly Refrigerant R600a which protects the environment and enhances cooling performance. It saves up to 36% energy and comes with an amazing 10 year warranty on the compressor.

LG has a wide range of Washing Machines and Washer-Dryers for small, medium and large families. Unlike ordinary washing machines, LG's Inverter Direct Drive Washing Machines, with the motor connected direct to the drum, eliminate the use of belts and pulleys creating noise-free operation, less replacement of parts and more efficient energy saving. LG's unique Turbo Drum Six Motion feature in Washer-Dryers introduces a new way to care for your clothes, similar to a hand wash, allowing for up to 6 different ways in which the washer combines wash motions to selected cycle to ensure the cleanest wash ever.In-built steam generator converts water into steam, using less water and energy. The steam eliminates odours and reduces wrinkles, so you save time and energy in ironing.

Recognizing the importance of saving energy, LG has taken the initiative to develop new, more efficient inverter technology. In addition to consuming less electricity, LG's advanced inverter systemsboast of powerful yet silent performance with enhanced reliability and electricity savings up to 60 percent. LG's innovative Corrosion Resistant Inverter Air Conditioners have a highly resistant magni coating, zinc-base + aluminum-top coating applied to the heat exchanger of its outdoor unit which provides exceptional durability and prevents corrosion. They are ideally suited for coastal regions where the indoor units of the air conditioners are exposed to sea breeze.

LG's Inverter Three Phase Split type Air Conditioners are the only three phase air conditioners in the market, providing lower energy usage and operational costs. They are made in Korea and are specially designed for commercial spaces such as offices and retail stores. They can operate for extended periods of time, while also providing exceptional seasonal energy efficiency. LG's Inverter Three Phase Split type air conditioners are able to produce an impressive volume of cool air which helps to create the perfect indoor temperature in almost no time at all. As well as delivering fast and efficient cooling, this can minimize electricity consumption by as much as 40 percent. Available in Ceiling Cassette Type, Ceiling Suspended Type, Floor Standing Type and Duct Type (Low and High Static) from 18,000btu to 54,000btu capacities.

No home is complete without a Microwave Oven, the easy, time saving and convenient way of cooking. LG has a wide range of microwave ovens to suit every requirement. LGs innovative and advanced technology has developed microwave ovens of the future to present homemakers with more convenience, less time to cook tastier food and more energy saving. The LG Lightwave Microwave Oven has an amazing Charcoal Lighting Heater that enables you to cook with a revolutionary charcoal filament for tastier, natural, even cooking in a shorter time. It contains a heating grill that enhances water heat absorption, cooking more naturally – like real charcoal grilling. The LG Steam Chef Microwave Oven has a stainless steel lid which stops the microwaves from cooking the food directly, allowing boiling water in the compartment below to steam the dishes to perfection and retain all its nutritious contents.
For the artistically inclined, who wish to add a touch of style and elegance to their kitchen, Abans have a range of LG Microwave Ovens with attractive floral designs.

So, why waste time hunting around for the perfect appliances for your home? Just visit your nearest Abans Showroom or authorized dealer and you are sure to find everything for your requirements from LG, the world's best brand. All LG products sold by Abans carry a trusted guarantee of quality and after-sales-service.