---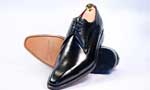 Hameedia recently introduced its latest range of Goodyear welted shoes, a sophisticated collection of men's footwear designed to offer optimal levels of quality, durability and comfort. Hameedia is continuously setting the benchmark in the fashion industry and its new range of Goodyear welted shoes, further enhances the company's product portfolio and strengthens its position as Sri Lanka's leading menswear specialist.

Goodyear welted shoes were originally introduced by the Founder of Goodyear welted tires, and over time the state-of-the-art technology used for the process, was then transferred to shoe making. A welt refers to the strip of leather, rubber or plastic that runs along the perimeter of the outsole of the shoe. Welted construction gets its strength, durability and repair qualities because the welt is stitched to the upper leather lining of the shoe, and is then cemented to the insole, this then ensures that it has been bonded to the insole. Welted construction is an extremely expensive and time consuming process that requires highly skilled craftsmanship. Although the process of creating welted shoes was invented hundreds of years ago, it is still considered the finest method of shoe construction today.

Hameedia's range of Goodyear welted shoes is available in a variety of classic colours ranging from black to mahogany and dark brown. From square-toe shoes to traditional lace-ups, the slim contours and rounded shoes in the range offer men stylish and tasteful footwear options that are both masculine and professional. Classic black lace-ups that are made by using the welted method of construction are a must-have for every man's wardrobe, as they can easily enhance a variety of different looks. A pair of black lace-ups can be dressed up or dressed down to match everything from work wear to casual jeans and t-shirts, and they can also dress up your look for any special occasion.

Commenting on the new range of shoes, Fouzul Hameed, Managing Director, Hameedia stated, "At Hameedia, we are continuously trying to give our clients the best range of products, and the best fashion experience possible. Our approach to fashion is not just about looking good, it is also about quality and we constantly encourage our customers to wear products of the highest quality. Goodyear welted shoes are the epitome of exceptional quality and fashion. At Hameedia, we want to transform every Sri Lankan man into a true gentleman, and the Goodyear range will enable many of our customers to truly enhance their look and make a strong fashion statement."

Hameedia has gained significant recognition and continuously stands out due to its ability to adapt and deliver innovative designs that reflect the latest fashion trends. Goodyear welted shoes are valuable in a variety of colours, designs and sizes and can only be purchased at Hameedia and Envoy Mansion.
Hameedia, established in 1949, has grown to become a household brand in Sri Lanka. Renowned for high quality, custom tailoring and ready-made clothes for gents, the Hameedia multi-brand retail stores house a collection of quality menswear brands including Le Bond, Envoy, Signature, Raymond, Lee and adidas to name a few. Hameedia also prides itself on offering exceptional standards of service to ensure that clients enjoy a positive and personalized experience at each store. With a network of over 30 outlets across Sri Lanka, Hameedia has also been growing its presence globally with outlets in the Maldives and Australia.