---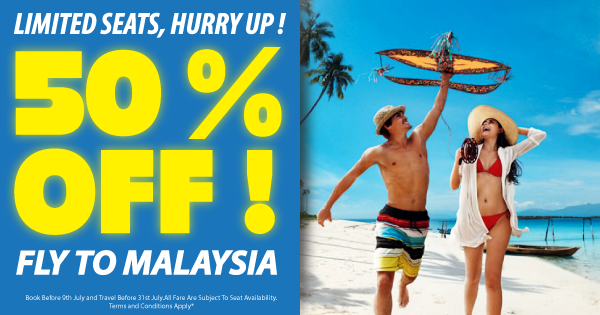 Findmyfare.com is offering a super 50% off bonus on selected flights to Malaysia. This is one of the best travel deals of the year which is offered exclusively by Sri Lanka's largest online travel company, findmyfare. This super deal is offered to findmyfare's customers days after announcing the company's new plans for expansion.
"Rewarding our customers has always been a priority at findmyfare. A 50% off discount may sound too good to be true especially on an air ticket, but we will go that extra mile to delight our customers. There's lot of innovation and fresh ideas proceeding at findmyfare at the moment therefore travelers have much to look forward to in the future" said Sachi Samarasinghe, Marketing Manager – findmyfare.

For those who are planning to visit Malaysia, this is the best airfare deal that one can enjoy without any hidden costs. The criteria of the promotion are that you need to make your ticket reservation on or before 9th July 2014 and travel before 31st July 2014.

"It has been a couple of days since we launched the promotion and our call centers have been in frenzy since then. Everyone wants to make use of this opportunity and we are very happy with the feedback" added Sachi.

This amazing promotion was launched days after findmyfare made a formal announcement regarding the company's new management under the Melwire Group. Findmyfare has been a subsidiary company of Melwire since 2012, but the official announcement was made only last month. Backed by the strength of its parent company and the love for travel and the excitement that comes with it, findmyfare hopes to extend many more special offers to their growing customer base.
Findmyfare.com is a one stop travel solutions provider that allows you to locate the lowest fares for air tickets and hotel accommodation, make reservations and plan a holiday to suit your budget and convenience. On findmyfare you can find the best deals for exclusive five star resorts to comfortable budget hotels worldwide with over 150,000 hotel options made available on the website.

The 24 hour online support by travel experts working on the website ensures that all your payments are monitored immediately, and you will receive a phone call once a payment is made. You can conduct any transactions on findmyfare.com through bank transfers, online banking or pay at any bank and get your e-ticket. Log onto www.findmyfare.com or call 117 24 7 365 for more information on this fantastic promotion.