---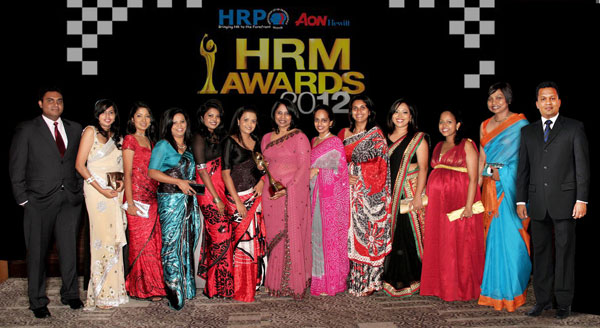 The HR team of AVIVA NDB Insurance at the HRM Awards ceremony.

AVIVA NDB Insurance was among the "Super 10" Gold Winners at the prestigious HRM Awards held recently. AVIVA NDB was the only insurer to win the coveted award.
The awards presentation was organized by the Association of HR Professionals and assessed by AON Hewitt. At this year's event held at Cinnamon Grand to a packed audience, AVIVA NDB's Director, Human Resources, Chathuri Munaweera received the award on behalf of the Company.

The highly acclaimed panel of judges for 2012 comprised IPMA HR Executive Director Neil Reichenberg, Johnson & Johnson Vice President for South Asia, Yashwant Sadashivrao, EFC CEO and Director General Ravi Peiris and Former Chairman of the Ceylon Chamber of Commerce, Chandra Jayaratne with Prof. Uditha Liyanage, Director and Chairman of Board of Management of PIM heading the panel.

Liyanage noted that the judging panel was impressed by the strategic approach, clearly articulated plans and competency-based recruitment and appraisals among the best practices demonstrated by the local companies that applied for the award.

The judges assessed the companies based on eight HRM processes via on site and off site audits on HR strategy with link to business strategy, talent supply, performance management, reward & recognition, employee relationship & people administration, leadership & key talent management and building capability. Ten top business entities representing a cross section of industries took home the GOLD.

Chathuri Munaweera Director HR, commenting on AVIVA NDB's success said: "This is a demonstration of our people power and an affirmation of strength of our best people practices which is a cornerstone of the success story of AVIVA NDB. We have access to best global HRM practices. We have a great team of talented leaders & people across the Company who are receptive to utilize the best in HR and a great HR team who understands the pulse of the organization."

Shah Rouf, Managing Director, congratulating the HR team for being among the top ten Gold winners said: "We proudly regard HR management as a core competency at AVIVA NDB and one that is a competitive differentiator in the market. AVIVA NDB is 'a great place to work' and it is reassuring to have that confirmed by external judges."