---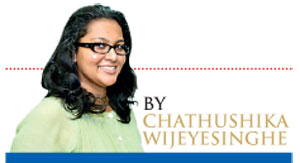 Hirunika Premachandra, Western Provincial Councillor and daughter of slain politician Bharatha Lakshman Premachandra joined the common opposition to support Maithripala Sirisena. She said that her decision to support Mr. Sirisena was made of her own accord.

Ms. Premachandra who was elected from Kolonnawa with a massive 139,034 votes said it was difficult for her to stay in the same party with the people who were responsible for her father's' death. She also said that many SLFPers were discontented with the current set up and that there would be more to follow her.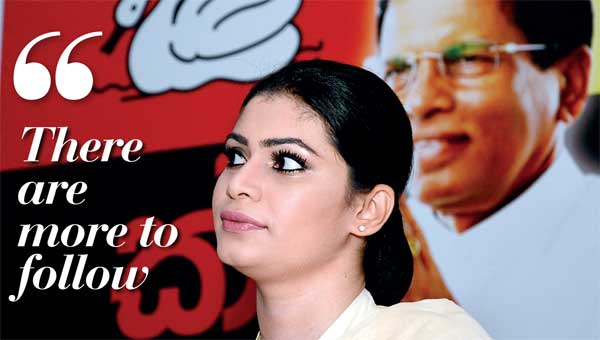 It is difficult to stay in the same party with the people who are responsible for my fathers' death. Three years have passed and justice does not seem likely to be done



At what point did you decide to join Maithripala?
Many asked me from the day Maithripala Sirisena was nominated as the common candidate whether I would support him. The first thing I did after he was nominated was to contact Mr. Rajitha Senaratne. I asked him when I could join them. The only thing he told me was to join them if and when I felt I could do so with a clear conscience. Therefore I thought about this deeply. Some people told me not to leave the SLFP as we could fight from within. Others told me to leave as this would be the best opportunity and a turning point.

After my father's ruthless assassination there were around ten ministers who spoke out against the killing. Later the number was reduced as they feared for their own lives. But from the very beginning Maithripala Sirisena spoke out against the incident and he was with us. The other person who did so was Rajitha Senaratne. They were with us despite many criticisms and threats.

What were the reasons behind your decision?
There were two reasons behind my decision. One was to seek justice on behalf of my father. Once Rosy Senanayake told me that I must fight from the place where I stand. None of them tried to force me to join the opposition. My base is in the SLFP. But when we look at the present SLFP it is doubtful whether any of the original SLFPers are there now. Also it is difficult to stay in the same party with the people who were responsible for my father's death. Three years have passed and justice has not yet been done.

The second was to establish law and order and justice, and put an end to corruption.

If you had doubts why did you decide to contest from the same party?
My base is the Sri Lanka Freedom Party. I thought of fighting from the place where I had started. I am a Lilliputian compared to many of them. People started to recognize me after I entered politics. After my entry to politics many people rallied around me. Now a person with a good character and integrity has come forward. I will give my fullest support to ensure his victory. Maithripala Sirisena's victory is a victory for all the people.

I convey my thanks to ex- President Chandrika Bandaranaike Kumaratunga. I spoke to her after I decided to support Maithripala Sirisena. She too never tried to force me. All she told me was to do what I thought was correct.

Do you think there are SLFPers who are discontented with the current situation?
Yes there are many seniors who have told me that they were fed up. The SLFP leadership does not attempt to get together all the members. They do not even attempt to get closer.

Does that mean there will be many more SLFPers who will follow you?
According to what I have heard and what some have personally told me there would be more to join. Let's wait and see.

But a few days ago you told the Media that you would not leave President Rajapaksa?
Yes I apologise for lying to the media. I had to say so for my own security.

Does that mean there were threats to your life?
Yes, After my father's death I received threats. Since I wanted to join the common opposition at the correct time I wanted to keep my decision a secret. Hence I could not reveal the truth at that point of time.

Do you think Maithripala Sirisena will succeed?
We might not blow trumpets and put up a huge show but we know we will win. We are strong.