---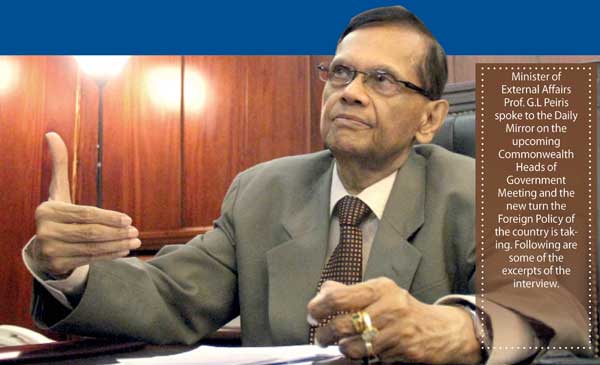 Q.
The Ministry of External Affairs and the Diplomatic Corps of the country draw quite a lot of flak over its failure to stave-off criticism of the country at international forums in the post-war period. What is your response to these criticisms and how has the Ministry formulated its polices to deal with this challenge?
An important thing which the public should understand is the change which has taken place in Sri Lanka's Foreign Policy. There have been many changes which have brought about very significant benefits to the country. These are changes which are warranted by the vagaries of the modern world. For a long time, these issues have not been adequately addressed. However, under the leadership of President Mahinda Rajapaksa there has been a re-orientation, of the country's Foreign Policy.
One major change is the emphasis on economic diplomacy. At the time we obtained independence from the British in 1948, diplomacy had a totally different character. There was an emphasis on the social aspect of things, interactions at receptions, dinners and much of it had to do with the niceties of bilateral relations and a great deal of the time of Ambassadors and High Commissioners, were consumed by that type of activity.
Today the priority is entirely different, and the main function of a High Commissioner or Ambassador representing Sri Lanka is to stimulate interest in investment, increasing volumes of trade and enhancing the number of tourists who visit the country—these are the vital functions of a diplomat. Diplomatic functions, today, must principally serve the purpose of promoting these economic activities.
This means that Ambassadors and High Commissioners must have a different mindset and conception of their work. Even if you look at some of the Foreign Missions in Colombo, you will notice that the larger part of the work that they do, has to do with economic matters. It is because of this reality, we took the necessary steps to transform this programme for our officials, some months ago. It was held in Diyatalawa over a weekend. One of the matters that we emphasised was the need to organise their work in a manner to give precedence to economic diplomacy.




Q.
How has the government attempted to obtain the support of the wider international community?
Since 1948, we have continued with the same emphasis on geographical locations, without actually standing back and asking ourselves whether fundamental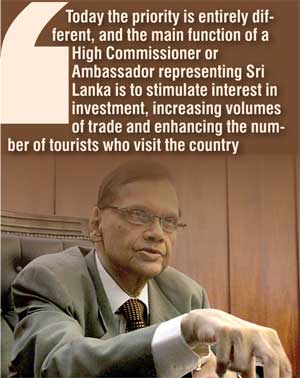 changes are needed—because of the developments that have taken place over the decades.
After President Rajapaksa came to power, we decided that one of the weak areas was the establishment of our diplomatic missions in the world. For example, in the whole of the African Continent, we had only four Resident Missions, that is in South Africa, Kenya, Libya and Egypt. This meant that the whole of West Africa had been ignored. Africa today is a rapidly developing continent, take Nigeria for instance, it has a high per-capita income, it has oil and mineral resources and this is true of many other countries. These are all unexploited resources and today these countries are taking their place of pride in the global arena. It is very much in Sri Lanka's interest both politically and economically to pay greater attention to the countries of Africa.

During the last year, we have established Resident Missions in Nigeria and Uganda and appointed High Commissioners to Abuja and Kampala. We are attaching great importance to other countries in Africa. Seychelles is a small country but very important, just as much as Sri Lanka's geographical location is important so is the importance of Seychelles, and we are opening a branch of the Bank of Ceylon there and a branch of the Sri Lanka Insurance Corporation, further SriLankan Airlines will fly to Seychelles. It is a very convenient point of entry to Africa and East Africa and that will give a great boost to tourism in Sri Lanka. We are having an inflow of tourists from South Africa but they have to come via Dubai, but this will make it easier for them to come to Sri Lanka. This also brings in business people and investments with direct airline connectivity, people can do business with Sri Lanka and visit across the country quite fast.




Q.
The critics of the government's foreign policy feel that the government has focused far too much attention on countries that don't accrue any economic benefit or political clout for the country.
There has been a great deal of snobbery with regard to the focus on Africa, but look at the benefits that Sri Lanka has obtained because of it. Especially with regard to the hosting of the CHOGM, we have had the firm and vigorous support of Africa and they have gone so far as to say that "your success is our success". There has been that sort of solidarity between the countries of the developing world African countries have taken a prominent role in that. Sri Lanka is applying for observer status in the African Union, which has its headquarters in Addis Ababa.

These new relationships with African countries are also important to improve our trade—this has been a very beneficial change in our Foreign Policy. Next year, we propose to do the same, with regard to Latin America, with countries like Brazil. Brazil is of course a very prominent player in the economies of South America. It has also taken political leadership in many spheres. We have good relations with Ecuador, Peru, and Cuba. Let's not forget that the Spanish speaking countries in Latin America are our principle markets for spices.

Our conception of Foreign Policy is that it is an extension of domestic policy, and Foreign policy has to be conducted to serve the vital interests of the country. At the time the terrorist conflict was going on, foreign policy had to be conducted in order to make it possible for terrorism to be eradicated.

However, today the need of the hour is to utilise the peace and stability that has been achieved, to accelerate our economic development. Our focus is on increasing investment to the country, value addition to our products, whether it is tea, rubber, gems or coconuts—wherever possible we try to add value. This is for two purposes, firstly to increase the earnings of the country and secondly to provide employment.

Further, we have to stimulate interest from other countries, for our products, in a highly competitive global and regional environment. We also have to make the best use of our free trade agreements with India and Pakistan. We need to expand existing markets and create new markets as proper marketing is very important to boost tourism. Our principal strength is diversity, we need to focus on this and expand it to airline agreements and things like the removal of double taxation.

We must also draw their attention to our human capital, our business friendly environment, our BOI mechanism, constitutional guarantees of protection for investors, the ease with which dividends can be transferred and the huge focus on the development of infrastructure





Q.
Has Sri Lanka properly exploited its geo-political standing and utlise this to firmly position itself as a force in the region?
We strongly feel that there has been inadequate recognition of Sri Lanka's contribution to the stability of the region and the world. The first achievement here is the defeat of terrorism. A few years ago, the leaders of the SAARC countries identified three areas of priority for SAARC, they were counter-terrorism, food security and energy security. If terrorism continued in this country, it would have destabilized the whole region; because today terrorism has international connections, with the flow of resources.

In many countries where terrorism has been eradicated, there has always been a residue and continuing acts of terrorism. However, in Sri Lanka since May 2009 there has not been one single act of terrorism. This is one significant fact which has gone unnoticed.

Because of its geographic location also contributes to international commerce as about a third of the ships carrying oil, on which the world economy depends, passes through the Indian Ocean. The port of Hambantota which we are developing is about 20 nautical miles away from the sea lane connecting the Gulf with Singapore and the Far East. Therefore, our geographical location is crucial; the Sri Lanka Navy is playing a role disproportionate to its monetary strength in curbing, illicit activities in people smuggling, the proliferation of small arms, money laundering activities and narcotics. Many countries have appreciated this and collaborated with us. For example, the Joint-working group that we have with Australia has been successful in averting those who are trying to illegally migrate to Australia, putting their lives at great risk.

Therefore, the major activities in which Sri Lanka is involved are not only in the interest of our country, but they are also beneficial to an extent far beyond Sri Lanka's shores. Such efforts are not appreciated enough in some quarters. So we feel that Sri Lanka is not being fairly treated by some sections of the international community.




Q.
Why is it that Sri Lanka has been unable to combat the negative publicity that has built up against the country and the government although four years have lapsed after the end of the conflict?
At the time that the military conflict ended, Sri Lanka had to determine its course, and we did this through domestic mechanisms such as the LLRC. On any objective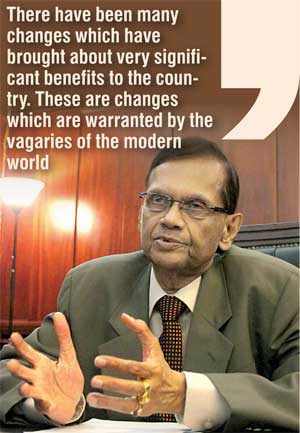 appraisal, it is clear that what can be done in the short and medium term has been addressed, like the resettlement of the internally displaced, the reintegration of ex-combatants into society, and the demining operations and the revival of the economy of the North, all that has happened.
Then other matters by their very nature are bound to require more time, such as the language issues and the land issues. But there can't be an instant delivery—that is why we feel that this intensity of pressure on Sri Lanka is unwarranted and counter-productive.

There is no question that this pressure is highly selective as it comes up in Geneva against Sri Lanka every six months, because no other post-conflict situation has been dealt with in that manner. Many countries question about this undue, relentless pressure on Sri Lanka.

Other post-conflict situations whether it is South Africa or Yugoslavia required much more time and the international community had not been grudging about giving that necessary time. So why is there a very special attitude being adopted with relation to Sri Lanka? What is very important is the consistency and uniformity of standards and fairness without politicising internal matters of a country at international forums. Because many of these accusations do contain a political element, there is no doubt about it—and that is wrong.




Q.
Certain elements have criticised the government for hosting the Commonwealth Heads of Government Meeting (CHOGM), without first dealing with the outstanding issues of Human Rights, claiming that it shines a spotlight on Sri Lanka and puts excessive pressure on the country, when it needs time and space to deal with more pressing issues such as reconciliation.
The main reason for hosting the CHOGM is that it puts Sri Lanka on the map and gives people the opportunity to come and see for themselves what we have done in the post-conflict situation. When they see what is happening in the country, they cannot be misguided by adverse propagandists.

We must also understand that the Commonwealth has a set of standards under which it operates, when they have a conference in a country, it is not their function to carry out an inquisition into that country. One has to clearly understand the nature of the Commonwealth. It is a voluntary association of sovereign states and there is absolutely no position where one country is allowed to sit in judgment of another. There cannot be adoption of judgmental postures. It is also wrong for any country to use a Commonwealth meeting of heads to satisfy political interests in their countries.

We have made arrangements for those who visit the country through the Summit to see the whole country, not just Colombo.




Q.
Canada is the second largest contributor of funds to the Commonwealth, which makes them a vital player in the Commonwealth. What effect will the boycott by Canadian Prime Minister Stephen Harper have on the CHOGM?
Why is there an overwhelming interest given to one country that has said it will not attend whereas there are 52 other countries who are supportive of our efforts? It is a great pity that we are obsessed with one country that is negative.

We have no intention of taking any kind of action against a country that is not coming or participating at a lower level—that is entirely up to that country. But what is obvious here is that the negative attitude of one country has not had an impact on other member nations, because that country has become isolated in its move. We have been assured of the goodwill of all the others and therefore we are confident that the CHOGM in our country will be an immense success.




Q.
There criticism that the expenditure on the Summit is not justified by the benefits that the government is expecting, either in terms of political prestige or economic remuneration?
We are placing a lot of focus on the Commonwealth Business Council. We have invited even those who are not part of the Commonwealth to take part in this Business Council. We have formulated project proposals, under the leadership of the BOI, especially in areas such as pharmaceuticals, energy, harbours and airports.
On the question of expenditure, any conference of this nature requires funds, but it must be seen as an outlay. However, the outlay is more than justified both politically and economically. We must remember that many of the countries that are participating in the CHOGM are coming here with a lot of goodwill and positive feelings about Sri Lanka.

Photos by Pradeep Dilrukshana