---




One of Sri Lanka's most sought-after jobs was handed over to Jayantha Dharmadasa on Tuesday when he was appointed as President of Sri Lanka Cricket (SLC) after weeks of wild speculation and intense backroom lobbying in cricketing and political circles.

The appointment was somewhat of an anti-climax. What was expected was a mighty tussle between previous President Upali Dharmadasa-Jayantha's brother and ruling party parliamentarian Thilanga Sumathipala.

The nominations of both Sumathipala and Upali Dharmadasa were rejected, the former for his being a director of a company which imported sports equipment and the latter for his failure for to fulfill the requirement of playing first class cricket.

Then, in a surprise move, the Executive Committee of SLC nominated Jayantha Dharmadasa for the post of President on the grounds that all other nominations have been found ineligible. Elections were held this week for the other posts at SLC.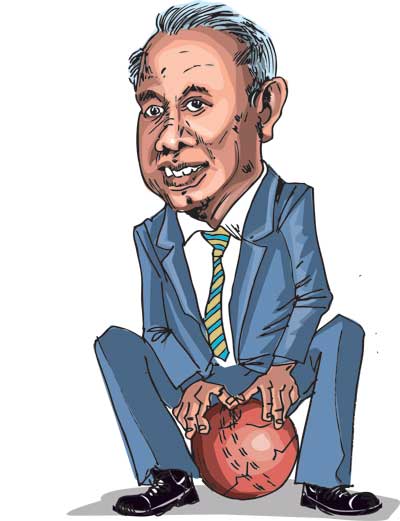 One Dharmadasa replaced another, suggesting that they and not Sumathipala had more political clout. Had it not been so, Sports Minister Mahindananda Aluthgamage would not have given the green-light to Jayantha Dharmadasa, overlooking his parliamentary colleague.

Jayantha Dharmadasa is no stranger to the job. He has held this position before between March 2005 and December 2007 and in 2006 he was also the President of the Asian Cricket Council. Nevertheless, his current tenure may be more fractious than his previous period at the helm.

Prior to his involvement in cricket, Jayantha Dharmadasa, now sixty four years of age, was reputed in business circles as the livewire behind the Nawaloka group of companies founded by his father, the late H. K. Dharmadasa, better known as 'Nawaloka mudalali'.

H.K. Dharmadasa's story is an awe inspiring tale of a village boy who made it good in the big city by determination and sheer hard work, despite having virtually no formal education and only a bare understanding of English at a time when business deals were conducted mostly in that language.

Those of t he next generation of Dharmadasas were raised in less trying circumstances, their father having established himself as a business tycoon by then. Nevertheless H.K. Dharmadasa was reportedly not too keen to lavish luxuries on them.

Jayantha Dharmadasa schooled at St. Thomas ' Mount Lavinia where he was a hosteller. Dharmadasa (Snr.) was keen for him to pursue higher studies but the young man plunged into running his father's businesses soon after leaving school.

Despite them being sons of the founder of the Nawaloka Group, Dharmadasa (Snr.) ensured that Jayantha and Upali rose through the ranks of the company, in the process grasping the finer details of running a large conglomerate.

Jayantha Dharmadasa previously attracted public attention mostly as Chairman and Chief Executive Officer of the Nawaloka Hospital, arguably the country's largest private hospital, where he was responsible for its modernisation and expansion.

He is also a patron of the arts, and chaired the Cinestar Foundation, which sponsored the extremely popular 'Ridee Reyak' variety show every year, the proceeds of which were channelled for the welfare of film artistes.

In public, Jayantha Dharmadasa projects a less aggressive personality than his brother Upali and is often pictured with a disarming smile. He will certainly need this charm in his new job where the challenges that await are many.

A major difficulty is the dire financial circumstances SLC finds itself in. The previous administrators say that this is mostly because of the expenses it had to bear while building stadia for the 2011 World Cup. That however does not mitigate the extent of the crisis.

There was a time when SLC was unable to pay the wages of its greatest asset, Sri Lanka's national cricket team. That has been rectified now and it is understood that SLC will be financed mostly through revenue from team sponsorship and by selling television rights.

Whether these two sources alone are sufficient to make SLC financially sound is a key issue and Dharmadasa will need all the skills he acquired managing his father's business empire to keep SLC afloat over the next two years.

Another stumbling block he will have to overcome is the team he would have to work with at SLC. Its secretary, Nishantha Ranatunga was not on the best of terms with Upali Dharmadasa and there is no reason to believe that the relationship will be much different with his sibling.

Ranatunga is reputed for running the day to day affairs of SLC with an iron fist. Often this resulted in differences of opinion between Ranatunga and Upali Dharmadasa being aired publicly which was damaging to SLC.

At the same time, the Sumathipala faction will be daggers drawn and will be quick to pounce on any difficulties that the Jayantha Dharmadasa administration will encounter. A nominee of the Sumathipala faction, Mohan de Silva was elected as one of the vice-presidents at Tuesday's elections.

Despite pronouncements to the contrary, political interference is also a factor that Dharmadasa will have to contend with. In that respect, Jayantha Dharmadasa would derive some support from Sanath Jayasuriya, parliamentarian cum Chairman of Selectors, with whom he enjoys a close rapport.

It would also help SLC greatly if Dharmadasa can stamp out corruption at SLC which was once described as the "third most corrupt institution" in the country by former Sports Minister C.B. Ratnayake. That though will be an arduous task.

This is also a time when the International Cricket Council (ICC) has taken SLC to task for not being free of political interference and for not holding regular elections. At one time, there were suggestions that the country's membership in the ICC could be in jeopardy.

Although elections to SLC were held last week amidst strict security, Dharmadasa himself was nominated by the Executive Committee instead of being elected through a democratic process. The ICC may therefore still frown on his appointment.

The image of our cricketers has also taken a beating with the likes of Lasith Malinga antagonising the media and others pursuing easy money in the Indian Premier League at a time when India was treating our cricketers shabbily. This is another issue Dharmadasa is confronted with.



Heading Sri Lanka Cricket may be one of the most coveted jobs in the country but it is also among the most demanding. If Jayantha Dharmadasa succeeds in his second attempt, he would do exceedingly well; if he fails, it will hardly raise any eyebrows.