---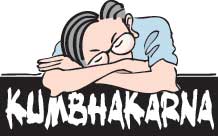 Actress Geetha Kumarasinghe is determined to make her mark in politics, as if we aren't already in enough trouble.

Her ambition, as well as drive, seems to have grown by leaps and bounds since her initial disappointment at elections several years ago. She wants to play a big role in the Southern Provincial Council. Not as just another PC member but as the province's governor.

Don't misunderstand this as some gender bias. It's definitely not that. I believe that women politicians can rule as well (or as badly) as men. There are plenty of examples from all over the world -Indira Gandhi, Benazir Bhutto, Corazon Aquino, Margaret Thatcher, Eva Peron, Michelle Bachelet, Angela Merkel etc.

It's just that only a few actors or actresses have done well in politics. If we take examples from Sri Lanka, Dr. N. M. Perera acted in the country's first silent feature film, but left a disastrous legacy as finance minister. Gamini Fonseka, by common consensus, did much better in films than in politics. His legacy is in celluloid, not in human rights, economics or in political decisions which made any positive, lasting impact on us.

Minister Jeevan Kumaratunge was a popular screen star not so long ago. An unaccomplished actor, he hasn't done any better in politics from the tax payer's point of view.

The incumbent president too, it has been said had his turn in front of a movie camera long ago. I honestly wish he had made a career out of it. (By inverting this phenomenon hypothetically, one wonders if former president Chandrika Kumaratunga would have done better in films than in politics. I'm sure she'd have left a better legacy as a film star).

As for other film or theatre people who have gone to parliament, provincial councils or whatever, they are at best ineffective do-gooders and nonentities at worst.
But one can understand Geetha Kumarasinghe's frustration. She feels left out where mere starlets have succeeded spectacularly.

What she should understand is that, assuming that she wishes to actually do something for us instead of being just another ornament in this endless media circus, her troubles would only begin once she gains political power.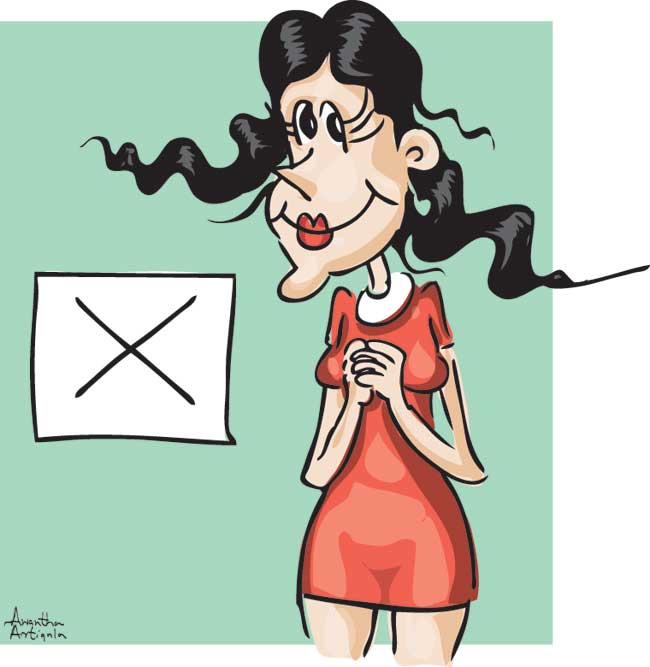 Why are our former film stars obsessed with political power? Is it good retirement? Or are they so publicity-hungry that simply fading out is unthinkable?

Perhaps they follow the South Indian example (abhorrent as it might be to the Sinhalese psyche). But South Indian politics is hardly an ideal to be followed. Considering that our early cinema was modeled on South Indian movies, perhaps our politics have more in common with its counterpart across the Palk Straits than one might like to admit. Our politicians too, look increasingly like South Indian movie stars. Imagine Geetha Kumarasinghe looking like Jeyalalithaa Jeyaram one day or Nadeesha Hemamali, the latest glamorous political hopeful, for that matter. She may not have Geetha's star status in films, but clearly shares the political ambition. That she wants to challenge Geetha K. and Anarkali Akarsha on the opposition UNP ticket doesn't gladden my heart. It's not for fear that, if elected, she might opt to kick open the stable door and join the government. But it's because I honestly don't want to see any more actors and actresses getting into politics, on any ticket, claiming to be our representatives.

Why do our voters think that our political leaders have to be good looking? All over the world, they are mostly dour people. Try and name a handsome prime minister or president from Europe, America, Asia or Africa. Many are downright ugly, and the occasional John F. Kennedy or Ronald Reagan (a B-Grade movie star who became an arrogant, profligate president. The US, like India, is a strange kind of democracy) is the exception rather than the rule. Look at Russian, Chinese, German, African or Latin American leaders (Mandela being somewhat exceptional), and you'll get the message.

In India, too, this is the norm (the Gandhi family again being exceptional). The film-star turned politician phenomenon can be found all over India, but it has really flourished in Tamil Nadu, and who's to say we haven't been heavily influenced by this dubious phenomenon judging by the numbers of stars and starlets who believe they are fit to rule us?

But only a handful of Indian politicians can be described as good-looking by film-star standards (the LokSabha has 545 members according to party, and most of them are dour-looking) and quite a number of India's big name screen stars have failed at politics, a stage where nothing goes according to script. Our voters should stop voting for ageing stars and film-starved starlets hungry for a lucrative new life as politicians.

On the other hand, they might give some face value to a parliament or provincial council, which can only be described as a gallery of rogues. In retrospect, our screen heroes and heroines, faced with retirement, should have worked to improve the ailing cinema industry, their bread, butter and dream factory, instead of wasting their time in politics. Gamini Fonseka, Vijeya Kumaratunge had the stature for that urgent and important endeavour. Malani Fonseka and Geetha Kumarasinghe still have.
I remember that, towards the end of his screen career, Gamini Fonseka made a big noise about making his impact on the Sinhala theatre by taking part in Shakespeare's Julius Caesar. No more was heard of that.

They left the cinema knowing that the industry was gasping for breath. They had the talent, the energy and at least part of the resources to breathe new life into it. Instead, they got into politics.

Vijeya paid the ultimate price with his life, but maybe fate was kinder to him than it was to Gamini Fonseka, who simply became another 'do-gooder' politician without an achievement to his name.


---
Add comment

Comments will be edited (grammar, spelling and slang) and authorized at the discretion of Daily Mirror online. The website also has the right not to publish selected comments.

---