---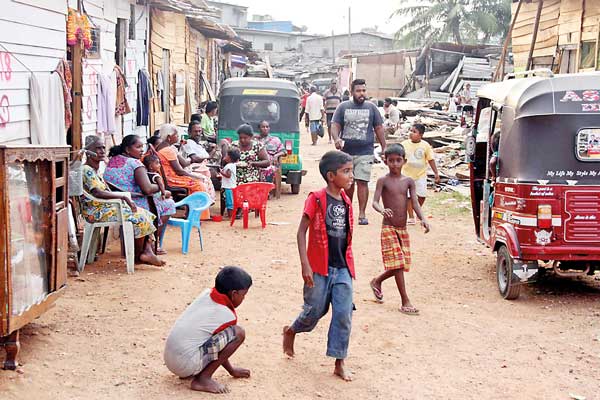 Pics by Pradeep Dilrukshana
After a huge commotion which aroused public interest, convincing the higher authorities to look into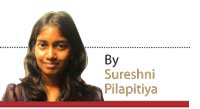 the matter, 'Kajimawatte' has returned back to normal.
Yet, traces of violence could certainly be observed by the ones who visit the dilapidated site. It is merely an eyesore to see the inhabitants seated outside their demolished houses.

There is another line of houses adjoining Kajimawatte which they call 'Somaliyawa,' a place full of shanties, but mansions to those who live in. Even now, the whole place looks like a refugee camp for the displaced. Their belongings scattered everywhere, and their houses, shattered. Whatever the legal circumstances may be, one cannot help feeling sorry for these people residing in utter poverty, and the sketches of pain are still visible in their strained faces.
These areas are often referred notorious for circulating drugs and exercising other malpractices, but on humanitarian terms, it causes concern. For the past couple of days, Kajimawatte has been a much discussed name, and both print and electronic media frequently reporting news.
The Dailymirror recently visited the location, and realized that even though the protest was called off, the warmth of the incident was still felt, disturbingly. Both print and electronic media representatives were seen at the site. Some UDA officials were also witnessed, busy, taking down information about the displaced, and the police personnel still on the lookout.

According to our correspondent, there are people who were provided shelter and those who did not get the opportunity. There are people who are trying to stand on their feet again, hoping to build their broken homes, and waiting for opportunity to knock the door to re-establish their lives. They don't request fat money or luxury apartments, but a place to dwell in, wherever it may be.

The main reason for this uproar was the Urban Development Authority (UDA) carrying out a plan of knocking down houses under the pretext of putting up new ones. It finally led to a huge protest by the residents on the Sri Lanka-Japan Friendship Bridge in Thotalanga, creating major traffic congestion that lasted for more than three hours on the Grandpass Road, the new Kelani Bridge, Ferguson and Bloemendhal Road, and vehicles heading towards Wattala and Negombo from Colombo being diverted along alternative routes.

Passengers and pedestrians who were longing to get back to their homes were in turmoil and inconvenience, having to walk for miles to avoid being detained in the ugly traffic. The protesters stated that they wait for Minister Patali Champika Ranawaka's response, as he pledged them to address a solution.
"If they continue to protest how can we carry out development projects? "
-UDA official
Meanwhile, the Dailymirror inquired from relevant authorities about this dilemma. An official from the Megapolis and Western Development Ministry stated that there were a lot of 'unqualified' residents. He said they have taken necessary plans to sort out who were given houses and who were not. There were people who had rented out their houses in the transit camp (the apartment complex) too, he said adding that they have to see if these people really have homes, where they came from, etc. Even in areas like Modara there are people who had rented out their houses.

"Though we sent these people off three to four times, they returned and built houses. We are not doing these things for our own good. We are carrying out these projects for these people. We disconnected their water and electricity lines as they had been taken illegally. We hope to take all these details into consideration and submit a report to the Minister. We can solve this problem. But, we need land to build houses. When we free these lands, they come and build houses. When they do so, we cannot carry out our development plans.
There are so many development projects coming up. There will be job opportunities. There is an area called '219 watte.' Now, if we free that land, and they start protesting in the same manner continuously, how can we carry our development plans? It won't be a success," he said explaining the gravity of the matter.
We tried to contact UDA Chairman Ranjith Fernando on several occasions to inquire about the latest developments, but failed to get across as he was not available.
"It was the UDA that asked us to come here"
-U.M.M Jayasooriya
This was U.M.M Jayasooriya's perspective on the incident. "The UDA asked us to end the protest based on a promise.
The houses they gave previously were too small. An extended family can't live there. The UDA for a second time asked us to come here saying that they would provide us with houses. And after stating so, they wrathfully approached and destroyed the houses, without even giving prior notice. If we are given proper homes we would lodge in, we will be satisfied.

We anticipate the government to do something. The people who live here are those who don't even have the proper three meals a day, for they are so poverty stricken.''

"We have nowhere to go" -
Sahara Asam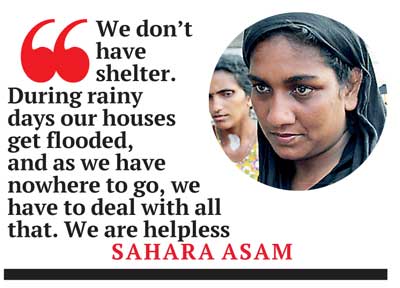 This was the voice of Sahara Asam (34) who vented out her anger in an emotional way. "We have been here for 15 years. We worked hard for two elections. Minister Ravi Karunanayake promised to build some houses for us. Now there is no one even to ask if we have enough food. We don't have shelter. During rainy days our houses get flooded, and as we have nowhere to go, we have to deal with all that. We are helpless. We can't even afford if we were given proper houses. We are unable to send our children to distant schools. We didn't come here because we wanted apartments, we came because we had nowhere else to go. Please give us a place to live, that's all we want."

Rasaiyya Prishad Jagath, a driver by profession, spoke to us along with his pregnant wife Ramanadan Anushiya. "We lived here on rent for 35 long years. Our whole family had been here. My wife is pregnant. We have no place to go. Our belongings have been thrown into the streets. They didn't even allow us to clear them. They just destroyed everything. None of us were given an apartment from the government. When it rains, we have no shelter. Still, we hope that something good will happen to us. It was with great difficulty that we collected money to build these houses. But now, everything is gone."
"There are around 300 families living here"
-Amila Jayasekara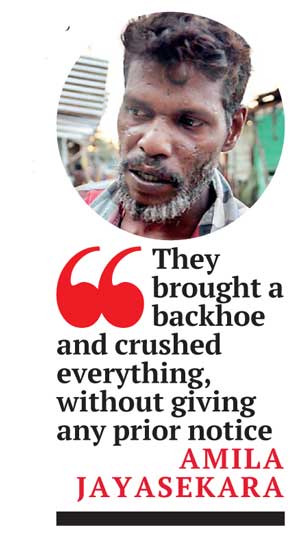 Amila Jayasekara (40) shared his views as well. "They brought a backhoe and crushed everything, without giving any prior notice. We had to take loans to build these houses. This is totally unfair. My mother is blind. We had to break rest till early morning. They didn't even wait till we packed up our belongings. Later, the UDA came and noted down our details. I'm quite uncertain as to what would happen.
The UDA pointed out that they would take measures against this predicament. There are around 300 families who live here. There seems to be a story that those who have got apartments also have given them on rent and have come here again. We have been living here for four years. The police and the STF caused a major destruction. I'm a vegetable vendor in the market. We don't require anything but a safe place to live."

It is true that we cannot solve matters seated in A/C rooms, for one has to come out and see the struggle these people face for mere survival. It gives us a notion of what the real life situation of these poverty stricken people is like.
"We don't have electricity or even water"
-S. Dayananda
S. Dayananda (33) expressed his views on the incident as thus, "We live here illegally. They said that they would give us accommodation, but only ruined everything. We don't have electricity or even water. It was only some of us who got apartments. We stayed here till early morning. We hope that something favourable will come our way. We only appeal for shelter."
"We have been here from 1995"
-Manikya Rathnasoundari
Manikya Rathnasoundari (65) pointed out that she was really shocked and saddened by this occurrence. "We have been here from 1995. Before we came here our abode was the beach. We were given apartments which we couldn't live in. It was only after that we came back. Those who gave us apartments urged us to leave. Even if we have to live on rent, we have to pay at least Rs. 10,000 which we cannot afford," she said.