---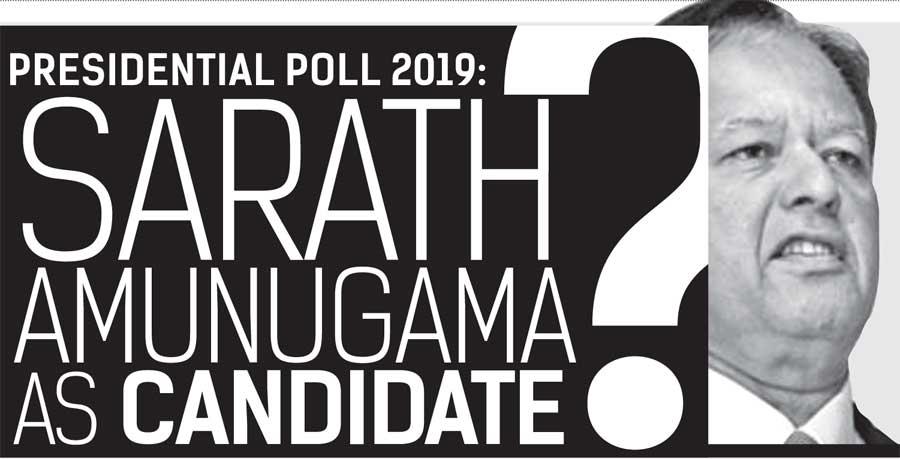 "A season for mystification and mellow, shallow promises,
Grand will do's, offered to newly discovered bosom- friends."

- Apologies Keats: To Autumn
Merry days are back again! Measuring life in elections participated- another, in the offing, will add an additional notch. Same old faces in a thousand posters, same electors with a cohort of additional youths to be left derelict! Plus de change, plus c'est le meme chose (more it changes, more it is the same).


A Presidential contest is not about policies: it is about personality, a coronation for the winner. Tamils, Muslims, Christians need not apply for the post. Though eligible, they are not in contention, for, it is an intra-Sinhala- Buddhist contest, who form 70% of the electorate. There are only two candidates who matter, the nominee of the United National Party (UNP) and the nominee of groups associated with the Sri Lanka Freedom Party (SLFP). This note canvasses the nominee of the SLFP to be Sarath Amunugama.
Sarath Amunugama, after his schooling career at the prestigious Trinity College, Kandy, entered the only University at that time, the University of Ceylon, Peradeniya. He read a degree in Sociology graduating with Honours and later a Ph D. At Peradeniya, he showed his leadership mettle. As chairman of the Student Council, he led a five-day strike against the administration of the dreaded Vice-Chancellor, 'Iron Chancellor' Sir Nicholas Attygalle, and worsted him. After graduation, he joined the Ceylon Civil Service via the most demanding recruitment examination in the country. The chairman of the interview board that selected him was the same Sir Nicholas Attygalle. Only graduates between the ages 22-24 were eligible to sit. His batch of eight had been selected from over 1500 graduate competitors.

From entry, it was accelerated upward mobility, holding posts in District Administration, Ministries, culminating as Secretary. He retired from public service and widened his job experience, going into electoral politics. Hereto he excelled, holding cabinet portfolios in Finance, Public Administration, Higher Education, Foreign Affairs. He led delegations to the World Bank, IMF and ADB. He was also ambassador to the UNESCO, where he held high executive posts. Sarath Amunugama is also a literary figure. Master of three languages, Sinhala, English and French, he was ideally positioned to interpret the East to the West. He has authored a well regarded biography of Anagarika Dharmapala, the Buddhist savant who initiated the Buddhist revival in Sri Lanka. He was also engaged in many Sinhala based literary activities. Sarath Amunugams is a thinker who is also a doer, a doer who is also thinker. Plato, who yearned for a Philosopher-King would have considered Sarath Amunugama his own. Age has not withered nor custom staled his acuity.
It is proposed that Sri Lanka, give Sarath Amunugama - an all rounder without a tincture of corruption, the opportunity to lead her. If not he, then who?
(Note: The author has known Sarath Amunugama, but has not met or spoken with him for over 15 years. It is his entitlement to offer views. This recommendation is offered without Sarath Amunugama's knowledge).