---
It happened last week. A household of a Navy officer in Kottawa was quarantined because a COVID-19 infected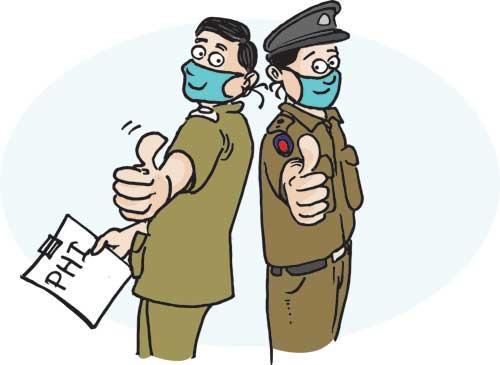 person was found nextdoor. By then the Navy officer was on duty in Trincomalee. The turn of events made it impossible for him to visit his family. Meanwhile the area Public Health Inspectors (PHIs) and the police made their routine visits to his house as they do with all other quarantined households.
While on quarantine the daughter of the Navy officer attained age.
While the father missed the occasion to be with his family the PHIs and the policemen did something special for the young girl. They collected about five thousand rupees among themselves and bought a beautiful wrist watch and gave it to the Navy officer's daughter on the day of her 'coming out'.

Medical officers and the military officers are often extolled for their role in controlling the pandemic in this island. So much so a five star hotel chain has come forward to offer a special holiday for the Army which is a good thing. The decision against offering a similar package to medical officers is perhaps due to the knowledge that most of the doctors are able to afford a holiday on their own.

The PHIs and the policemen who visit the quarantined homes do that at the risk of their own health. Despite this fact these two categories of officers seem to be completely overshadowed by the doctors and the Army as the majority of the public, politicians and media seem to be focusing only on the role played by the latter.
The service of the PHIs commenced in 1913 and initially they were called the sanitary inspectors. Ever since then they have been playing a decisive role in controlling communicable diseases; especially in times of epidemics including the much feared malaria epidemic in the 1930s.

This is besides a slew of other duties that they attend to such as the inspection of construction sites promoting healthy habits among schoolchildren. Despite this consecutive governments took the role of the PHIs for granted. The PHI Union had to threaten union action last April even to get their basics like a travel allowance. The policemen on the other hand did not demand even that. It was they who checked the identity cards and curfew passes of the motorists during the lockdown and visited quarantined homes with the PHIs. Of course the army guarded the checkpoints and operated the quarantine centres, which was certainly quite a tough task.
The doctors and the army contributed to save the nation from an explosion of the epidemic. There's no doubt about that. However a crucial role was also played by the PHIs and the police. Let us not forget them in the rush to offer accolades to the others.