---
In this era of microchips and digital technology, it is significant that the United Nations for the first time last Tuesday June 27, marked Micro- Small and Medium Sized Enterprises Day. This was because the UN says enterprises which generally employ fewer than 250 people, are the backbone of most economies worldwide and play a key role in developing countries.

According to the data provided by the International Council for Small Business (ICSB), formal and informal Micro, Small and Medium sized Enterprises (MSMEs) make up more than 90% of all firms and account on average for 60-70% of total employment and 50% of GDP.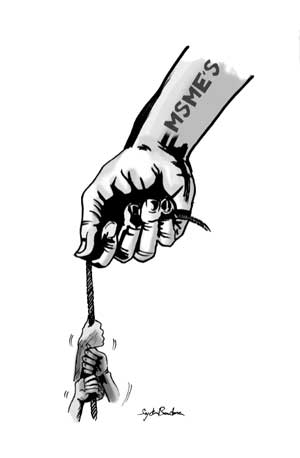 The UN General Assembly, recognising the importance of these enterprises, decided to declare June 27 as the Micro Small and Medium-sized Enterprises Day to raise public awareness of their contribution to sustainable development.

According to the UN, Micro-, small and medium enterprises are the first responders to societal needs. They have been identified as a major driver in the battle for poverty alleviation and development.
MSMEs tend to employ a larger share of the workforces in vulnerable sectors, such as women, youth, and people from poorer households. MSMEs can even sometimes be the only sources of employment in rural areas.

As such, MSMEs as a group are the main income providers for the income distribution at the "base of the pyramid", the UN says. MSMEs should be the first responders to societal needs and provide the safety net for inclusiveness.

The UN says that although MSMEs generate the most new jobs, they face many challenges in day-to-day operations and to grow. Access to finance is often cited as one of the primary obstacles that affect MSMEs disproportionately.

According to the World Bank, there are 200 to 245 million formal and informal enterprises that do not have a loan or overdraft, but are in need of one, or do have a loan but still find access to finance as a constraint. More than 90 percent are MSMEs.

Financing constraints are also magnified for informal firms, which tend to be small in size, and although often less productive than formal enterprises, contribute significantly to economic activity and employment. Informal firms are estimated to account for around 74 percent of all MSMEs in the world and around 77 percent of all MSMEs are in developing countries. Unregistered firms rely mostly on informal financing, which -although important in facilitating access to finance -are associated with lower firm growth and increased firm illegality.

With this challenge, an opportunity arises for both policy makers and the private sector to intervene at various levels to try to encourage the formalisation, participation and growth of micro-, small and medium-sized enterprises in international, regional and national markets.

This needs to include access for capacity-building and financial services, such as affordable micro-finance and credit.

Efforts to enhance access to finance for MSMEs across key sectors of national economies are an important element of implementation of the Sustainable Development Goals (SDGs). SDG targets 8.3 and 9.3 call for enhancing the access of MSMEs to financial services.

In addition, SMEs are an important element in the implementation of SDG 8 (decent work and economic growth) and SDG 9 (industry, innovation and infrastructure), the UN says.

During the past few decades of the globalised Capitalist market economic system, we have seen the emergence of trans-national corporations as the neo-colonial ages of the big powers.

Indeed we need to beware of the strategies of TNCs but the MSME Day's facts and figures show us the importance of encouraging and providing incentives for MSMEs so that the national unity government could achieve its targets of sustainable economic growth and the vision of creating a peaceful, just and all inclusive society.

Some two-and-a-half years after President Maithripala Sirisena was elected by the people with high expectations, democracy has been restored. But hopes have fallen in regard to getting huge Foreign Direct Investments.

This may be largely because of the regular strikes and street demonstrations, especially in recent weeks or the SAITM issue. While the Government needs to get tough and impose regulations to prevent the abuse of freedom , we also need to change the focus from big FDIs and encourage Micro-, Small and Medium-sized Enterprises.