---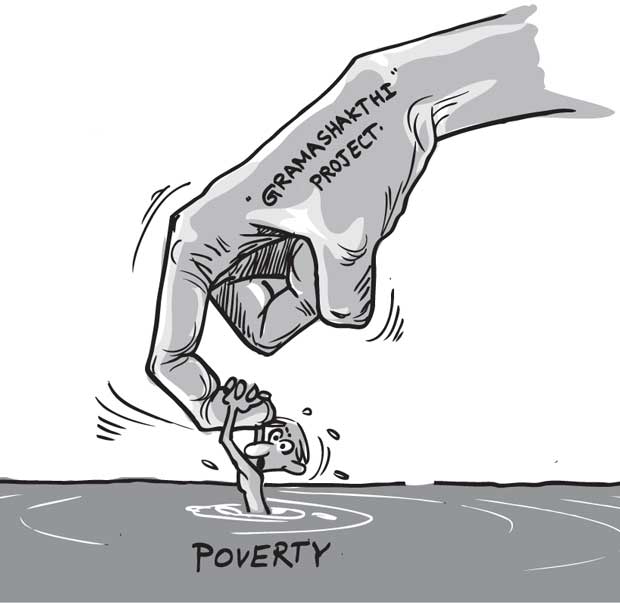 In a major step towards building a just, fair and all-inclusive society, the National Government yesterday launched a historic Gramashakthi People's Movement with the vision of alleviating poverty by 2030.

President Maithripala Sirisena who has declared 2017 as the year of beginning the poverty alleviation mission launched this village empowerment programme at a ceremony held at the Sugathadasa Indoor Stadium and was broadcast countrywide.

According to the Presidential Media Division (PMD), the Gramashakthi people's movement is the flagship mission of the national government for a sustainable, eco-friendly and largely village-based development programme. One of the main aims is to empower the majority of the economically and socially marginalised people and make freedom a reality for them and all Sri Lankans.

The PMD says priority will be given to districts where the number of low-income families is high. Initially about 1,000 such villages will be developed and by 2020 it will hopefully expand to about 5,000 villages.

Another objective of this mission is to create a fair society which provides equal opportunities for every community. The mission will focus on the livelihood requirements of totally and relatively poor families in grama niladhari divisions, the needs of women and unemployed youth, the needs of those badly affected by the war in the North and the East, the needs of those who should be empowered, needs of entrepreneurs and people who wish to be entrepreneurs, opportunities to free the people from debt burden and sustain their livelihoods.

Significantly the October 16 World Food Day had a similar theme -- rural development to prevent people from moving to cities or other countries. The Food and Agriculture Organisation (FAO) says three-quarters of the poorest of the poor base their livelihoods on agriculture or other rural activities. Creating conditions that allow rural people, especially the youth, to stay at home when they feel it is safe to do so, and to have more resilient livelihoods, is a crucial component of any plan to tackle the poverty and migration challenges.