---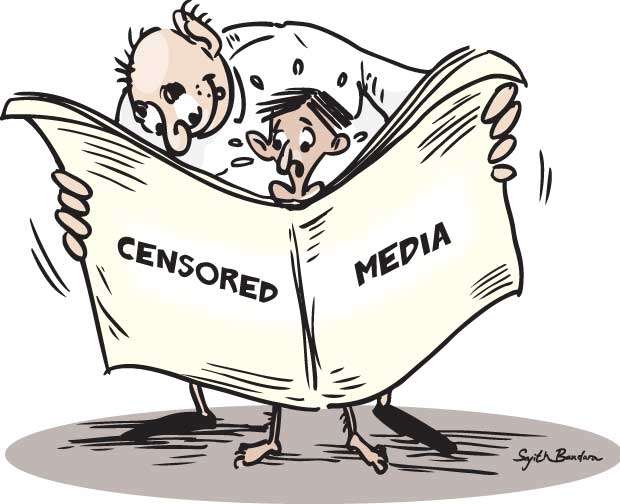 To be well informed with a balanced awareness of important national issues is not only a right but also the responsibility of citizens who are committed to the goals of eco-friendly, sustainable development and a vision of a just, peaceful and all -inclusive society.
The free media are expected to play a key role in this area which is regarded as one of the four pillars of democracy. Unfortunately some Sri Lankan media groups appear to be playing party politics with their news being spin-doctored on the basis of what contracts they get or what benefits they may obtain if any particular political party is in power. Therefore the people also get a distorted picture of what is happening in the political, socio-economic and other areas. Unfortunately this is happening despite the strict implementation of the right to information law from February 3, last year. Under this law, widely regarded as one of the most progressive pieces of legislation enacted by the shaky coalition government, the people have a right to ask any state institution or its RTI officer for information regarding contracts, tenders and expenditure on various projects ranging from road reconstruction to environmental issues. Most people appear to be unaware if not unconcerned about this vital right and prefer to believe some distorted news given to them by media groups with vested interests.
Thankfully the media ministry from Friday will launch a wide-ranging programme to make the people aware of what they could do under the RTI law and that if the institution's officer refuses to give them all the information within two weeks they could make an appeal to the independent RTI commission which has mandatory powers and is acting in a manner that consolidates democracy.
This issue comes into focus as the United Nations Educational Scientific and Cultural Organisation (UNESCO) marks the second year of its "International Day for Universal Access to Information". UNESCO says this day has particular relevance with the new 2030 Development Agenda, and in particular with Sustainable Development Goal target 16.10 which calls for ensuring public access to information and protection of fundamental freedoms.
According to Human Rights Watch, "Universal Access" is bound up with the right to seek and receive information, an integral piece of the right to free expression. It says that for instance in Venezuela, there will be little to celebrate. The Nicolás Maduro administration downplays abuses by security forces and denies the existence of the country's humanitarian crisis and the exodus of Venezuelans. It also fails to provide information of public interest, such as accurate statistics on the country's health crisis and is doing its best to ensure no one else does, either.
The Venezuelan NGO Espacio Público, which monitors free speech, submitted 31 information requests to the government last year under the country's Constitution, which provides for the right of access to information and implementing laws. The requests asked authorities for information on topics ranging from access to drinking water to the police's budget and the environmental impact of oil spilling by the state-owned company. None has received a response.
Given the increasing difficulty independent media outlets face in operating, Venezuelans are turning to the Internet for news. But the state-owned company CANTV —the main internet provider in Venezuela— has in recent months repeatedly blocked access to key news outlets according to the Venezuelan NGO Redes Ayuda. The government's grip is making it harder for the millions who remain in Venezuela to know what is happening in their country. Under former president Hugo Chávez Venezuela had a vibrant democracy and was cited as an example not only to South America but to the world.
We hope that Sri Lanka also, now enjoying media freedom and the right to information, will not allow itself to be dragged into the cesspit where Venezuela is today. Responsible, eco-friendly citizens need to stand up and speak out for democracy, the rule of law and the people's right to information.