---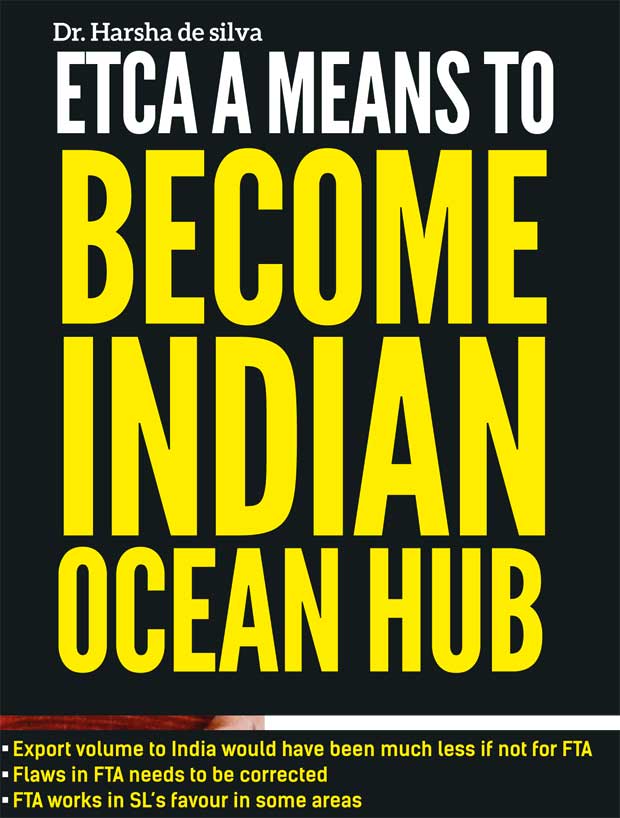 Acting Minister of Foreign Affairs Dr. Harsha de Silva says Sri Lanka's objective of becoming the Indian Ocean hub will be unrealistic without getting connected to India. As a result, he says ETCA is very important. Excerpts from the interview


As the Acting Minister of Foreign Affairs, you work for economic diplomacy. How important is the Economic and Technology Cooperation Agreement (ETCA) with India?
Sri Lanka's future depends on how well the country integrates with the world. That is it. It is because our strategy is to become the hub of the Indian Ocean. A hub necessarily means that we are connected to other parts of the world. So, the importance of getting connected to India, in our objective of becoming the hub of the Indian Ocean, is a prerequisite.
There is no way for us to become the hub of the Indian Ocean without being connected to India in terms of trade and investment. It is equally important that we connect with Pakistan, which has signed a Free Trade Agreement, and China which is the other main economic power.
If we think about it, we would like investors to come to Sri Lanka, not just to sell their products here. Of course, that is to use Sri Lanka to sell products and services to third countries. We would like Chinese investors in Sri Lanka manufacturing here to be sold in India. We would like Indian investors in Sri Lanka manufacturing here to be sold in China. But, that can happen effectively only if we have preferential access. So, we have duty free access to these large markets, the projects become viable. This is in the bigger context of our ambition to be the hub of the Indian Ocean that ETCA is part of it. It is a means.

Already, we have signed a FTA with India. There are shortcomings in it as pointed out by exporters and others alike. Rather than addressing those shortcomings, what will be the end result of signing ETCA which is a board arrangement?
There are some technical facts that need to be understood. You cannot compare mangoes with coconuts. If you analyse trade between these two countries, you will see what we import from India is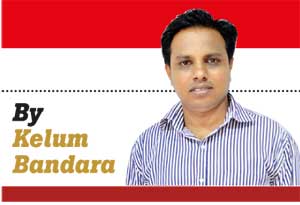 by and large, not part of the FTA. Only about 15 percent of the FTA is used by India to export to Sri Lanka. On the other hand, 80 percent of Sri Lanka's exports take place through the FTA. If you go for mango to mango comparison, you have to compare the volume of bilateral trade through the FTA only. That is what I am trying to say. For example, Maruti and Bajaj are not vehicles coming under the FTA. Why are our people buying Maruti? It is affordable. Be it from India or Malaysia, people look at more value for their money. You cannot add what is outside the FTA. It is not a technically correct assessment.
From an economist's point of view, if you do 'mango to mango' comparison, you will find deficits in some areas, and surpluses in other areas. Nobody is doing that.

Does it mean that the FTA has worked well in favour of Sri Lanka?
Yes. What I am saying is that we have surpluses in some areas. There are deficits in some other areas. The comparison must be prudent. Now, in fact, one can argue that if not for the FTA, Sri Lanka's exports to India would have been even much less. We utilised 80 percent of the FTA to trade with India.
However, there are a number of issues with FTA. I agree with it. A lot of issues are not related to tariff or custom issues. They are non-tariff barriers. The other issues such as sanitary and hyper sanitary requirements, the mutual recognition agreement are there. If an exporter gets a certification of a particular standard from a Sri Lankan authority, then that certification must be accepted by the Indian authorities and vice versa. If that happens, trading becomes easy. What happens now is you have certification of standard in Sri Lanka, but it is not accepted in some places of India. Then, when we move to services, it will become even more complicated. Whether they will accept our qualifications is a question. Those are issues to be sorted out. Therefore, it is a part of the current discussion on ETCA that these non-tariff barriers –quantitative ceiling, sanitary requirements and other restrictions such as designation of seaports for exports –should be sorted in the greater scheme of planning. There are the positives and there are also these negatives that need to be solved. What we call an early harvest we look to, is to sort them out quickly. One more thing is tax variations in different states of India.
Now, the GST is coming. Once it comes, a uniform tax mechanism will be there across India. That problem is faced not only by us but also other countries exporting to India.


How optimistic are you that these shortcomings can be addressed in the evolution and implementation of ETCA in the future?
The objective is to agree at one point where both sides feel conformable enough to expand the agreement from FTA to ETCA.

What is your opinion on the opening up of the service sector?
You can provide service from one country to another without the movement of persons physically. That is one mode. It happens all over. The HSBC call centre in Rajagiriya of my electorate is doing it. That is outsourcing. Then, you move to another country to get some service and return. It can be a Sri Lankan seeking treatment at Apollo Hospital in India. That is Mode 3. There are some services linked to investment. Along with investment projects, certain workers are taken. In the construction industry, it happens.
When Indian firms and Chinese do their construction projects here, they bring their people. Sri Lankan companies, doing investments in Africa, do the same. In Africa, you find Sri Lankan investments in hydro projects. Mode 4 is the movement of persons. A person moves from one country to provide services in another country. It happens in Europe. The natural person can move from France to Germany. It happens all across the European countries.
As for Brexit, British people found so many Polish people working there. During the referendum time, I was there. These are very sensitive matters. It has been mentioned that the Mode 4 service will not be a part of ETCA unless sought by Sri Lankan industries themselves.
At one point, certain groups within the ship-building and ship-repair industry have sought it. The Mode 4 service trading is not part of the proposed agreement.

It means other three Modes are included?
Yes


How far have you progressed now in the evolution of ETCA?
Negotiations are going on. An Indian trade delegation is expected in Colombo soon. The Indian Minister of Commerce was supposed to come. That was postponed. She will come soon. The Government has appointed a negotiating team including senior Government officials, experts and also for the first time, representatives from Chambers and other professional bodies. So, this is transparent.
*Have you done any feasibility study on the markets of both countries' for such an agreement?
I mean so much of work has been done. The Department of Commerce is actually taking the lead. The Director General of Commerce is the main person responsible for Sri Lanka.
Those people have done studies. Also, people are stuck in trying to compare bilateral trade. That is meaningless. We may import a lot from India. But, we may not sell to India. We may sell to the United States of America. What matters is the nett export value for the country. Only the nett export value gets added to the GDP. People's wealth will grow based on nett exports, not based on bilateral trade with a particular country.
That is absolutely a misleading argument that can be made by people who want to sabotage the process. Some people say import is bad. If you look at the new world order and the global production chain, it is clear. If you look at any electronic gadget you use, you will find that its parts are made in so many places. One component is made here, and the next in another place. The final product is exported.
It is an archaic and outdated idea to compare trade between two countries. We have to be concerned about nett exports. Even if we do not export anything to India, it does not bother me. What we want is to export to America, Europe, Japan, and Australia and to the emerging middle-class of China and India. You have to get into this paradigm.

Apart from ETCA, what are the other trade engagements with the rest of the world?
This is something controversial. People look at me in a funny way when I say this. I first said this at a business gathering in Mumbai. I do not consider Sri Lanka as a South Asian nation. I consider Sri Lanka as an Indian Ocean nation. Then, the mind is free.
You are in a different paradigm. You are not focusing on India, Pakistan, Bangladesh, Nepal, Bhutan and Afghanistan. When you say a South Asian country, your mind is closed. We are the actual Indian Ocean country. I think if Sri Lanka succeeded in its regional efforts, there would not have been Singapore or Dubai. Singapore's success is Sri Lanka's failure.


Your government tries to deal with Singapore for development cooperation. How can you expect help from a competitor then?
There is something called 'coopetition'. It means cooperation and competition. If you go to the Silicon Valley and Texas, you can see it. Competing and cooperating with each other is there. If you go to Boston, tech and biotech companies cooperate with each other and compete. The countries also do that. You see a lot of success stories.
We are going to sign an FTA with Singapore. It will get done quickly. Now, that is cooperation. At the same time, we compete. There is a lot of learn from the Singaporeans. Their export to GDP ratio is 150 or more. They also import more than 100 percent of GDP. They do not fear imports. It is the nett value that matters. We need to work with Singapore, in particular for mutually beneficial collaboration.

In the past, you talked about trade cooperation with the Western world. Now you turn to Asia. What happened?
It does not mean we place less emphasis on the west. Today, most of our jobs in the export sector are created due to America buying our goods. The US is our biggest customer. Last year, we exported goods to the value of US$ 10 billion. Of it, US $ 3 billion came from the US. I was in the US a couple of weeks ago. I am pleased with discussions I had. We intend to move towards better market access.