---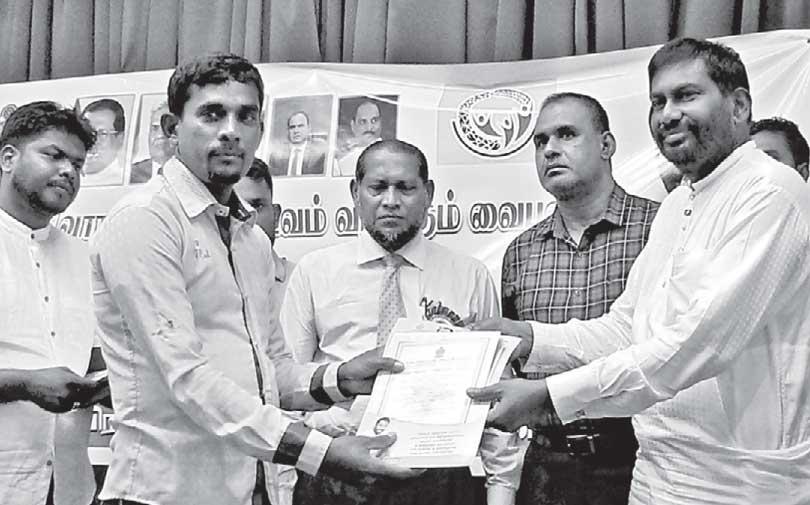 By A.L.M Shinaz
We cannot take the country backward by creating divisions in the country such as Tamil, Muslim and Sinhalese, Co-chairman of the Ampara District Development Committee and Minister of Primary Industries and Social Empowerment Daya Gamage said.

He made the above comment participating as the chief guest at the event held on Saturday at Le` Meridian Hall in Sainthamaruthu to distribute Ownership Deeds to 1,185 Samurdhi beneficiaries in Maruthamunai, Natpiddimunai and Kalmunai under the patronage of the Kalmunai Divisional Secretariat.

Mr.Gamage said that the Mahinda Rajapaksa group forcibly took over the government and created instability in the country and as a result the country went backward by two years.
"They threw money to lure the members to their side. However, the Muslims and Tamils did not fall prey to their gimmicks. The IS terrorism was not only prevalent in Sri Lanka but had crippled many countries across the world. If we are to succeed, we have to tread our journey as Sri Lankans without any divisions," he said.

"We do not grant Samurdhi benefits due to poverty, on the contrary we are extending this facility for the people to stand on his own legs.

We hope to implement 50,000 development projects within the next three years while we anticipate implementing 20,000 projects during this year," the
Minister said,

"We cannot go backward by creating divisions such as Tamils, Muslims and Sinhalese.

These three communities are working in unison in the Divisional Secretariats. Similarly, we do not discriminate to grant Samurdhi benefits based on ethnicity, language or the political party that one belongs to.

Forward us those eligible to get the Samurdhi assistance and we will grant them the benefits within two weeks," said Minister Daya Gamage.
Mr.Gamage said that the Mahinda Rajapaksa group forcibly took over the government and created instability in the country and as a result the country went backward by two years