---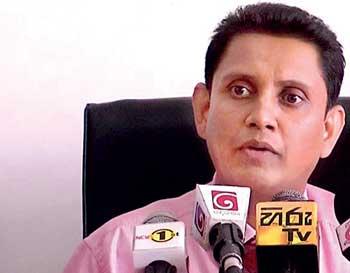 By Sheain Fernandopulle
The Government Medical Officers Association (GMOA) yesterday urged President Maithripala Sirisena in writing to remove Rajitha Senaratne from his office as the Health Minister and arrest him with immediate effect.

Addressing a press conference, GMOA Secretary Dr. Harith Aluthge said legal action should be taken against Minister Senaratne for his undue intervention to the probe being carried out against Dr. Siyabdeen Mohamed Safi who was alleged to have performed sterilization on women.

"The GMOA has no faith in the ministerial committee appointed to probe against the Kurunegala doctor. We can't expect an independent inquiry into the incident from the committee as far as it is under Minister Senaratne," Dr. Aluthge said.

"Besides, we have received credible information that the Minister is attempting to directly intervene into the case and make influence on the director of the Kurunegala Hospital," he added.

He said they had stressed on numerous occasions that Rajitha Senaratne was not eligible to the Health Minister post and had been acting arbitrarily.

Therefore, they urged the President to take over the ministry and to appoint a partial committee under his directives.
Besides, we have received credible information that the Minister is attempting to directly intervene into the case