---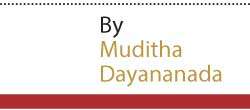 The medical exhibition " WEDAESA 2018" organised by the Medical Faculty of the Sri Jayawardenepura University to mark its silver jubilee will be held at the BMICH in Colombo from December 4-8.
Dean of the Faculty Prof. Surangi Yasawardene told the media that the exhibition would include special seminars and workshops on different themes and medical clinics. The first day's programme would be based on a safe environment and a healthy life, the second day's programme on health in youth, the third day's programme on prevention of accidents and protection in the Cyber Space and the final day's programme on aesthetics, mental health and attending the elders.
The stalls have been set apart for Heart and Blood Circulation, Breathing System, Digestive System and Endocrine glands, Kidney functions, Reproductive system, Centre Nerve system, use of intoxicants cancer, communicable diseases and non-communicable diseases, Surgery, Genetic Deformities, Forensic Medicine and the role of IDH Hospital. Facilities will be available for free Echo Tests at the cardiology clinic while free eye tests can be undergone by those who suffer from colour blindness at the eye clinic.

A blood donation campaigns will be held during the exhibition daily in collaboration with the Blood Bank.
The Exhibition is organised by Dr.Thushari Dissanayake under the guidance of Dean of the Faculty Prof. Surangi Yasaardene and Vice Chancellor Sampath Amaratunga.
Co-Chairs of the Organising Committee Dr. Tushanri Dissanayake, Prof. J.Indrakumar, Dr. Shyamali Samaranayaka, and Dr. Hasini Bannaheka were present at the media briefing.