---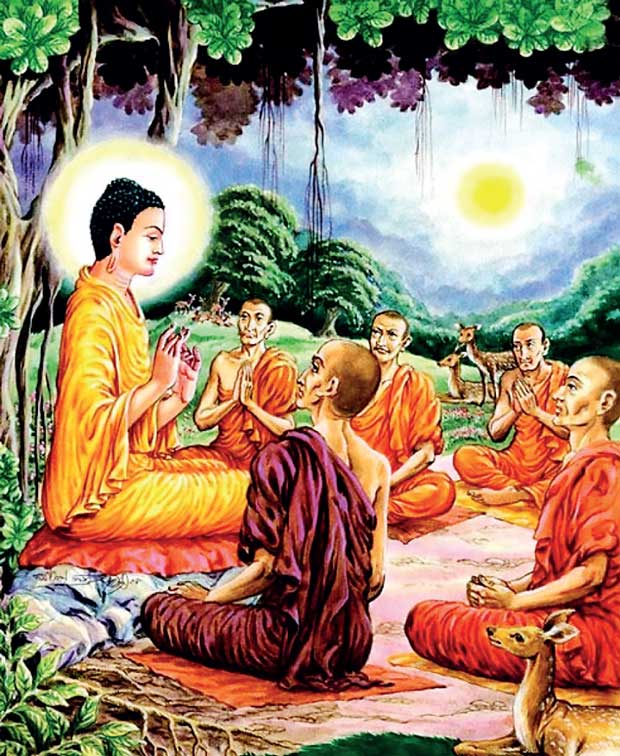 "Monks, when worldlings with defilements speak in praise of Thathagatha they do of just a fraction of the elementary virtues of His, the basics of His morality (sila) within their mundane knowledge" said Buddha in Brahmajala Sutta.

If that fraction, the basics are anything to go by, it takes no effort at all to fathom the fuller individual that was Sakyamuni Gautama Sri Samma Sambuddha, the fully enlightened Master of earth and the heavens. He is called Thathagatha by virtue of seven unique features, possessed by none other whosoever.
Said He:
"If those mundane humans were to speak of His qualities, they would say thus; The Fortunate, the Samana Gautama has abandoned the taking of life, abstains from cruelty to living beings, does not take up arms, is ashamed of evil conduct, is kind and compassionate towards one and all, The Samana Gautama refrains from taking what is not offered, accepts what is offered with a pure heart. He lives a chaste life, devoid of sensual pleasures, sexual misconduct and debase livelihood. He refrains from falsehood, speaks the absolute truth, what is believable; He is no deceiver of the world. He does not indulge in malicious speech that tends to estrange people, unites those that are. He considers unity is foremost, is happy of those that are united. He refrains from harsh speech, always speaks pleasant, friendly words that evoke felicity. He is equally free of empty, futile words, speaks what is truthful and benevolent at the proper time and place with apt similes and analogies that help nurture restraint of the senses and facilitate one's inward development.

He refrains from destroying plants, grasses and trees. He abstains from watching dancing, singing and theatre, does not wear garlands and perfumes nor uses inappropriate chairs as seats. He avoids accepting gold, silver and money. Neither does Fortunate Samana Gautama accept raw grain and meat nor women and girls. He refrains from accepting slaves, goats, lamb, poultry, swine, elephants, cattle and horses, nor does He accept paddy fields and lands.
The mundane would also say ascetic Gautama does not run errands, transact business or engage in trade....

The mundane would also say ascetic Gautama does not run errands, transact business or engage in trade, use weighted scales and short measures, accept bribes, cheat and hoodwink people. Likewise he refrains from injuring, torturing, trussing up, robbing and plundering villages, committing acts of thuggery.

Monks, worldlings with defilements would further say that Samana Gautama does not, unlike certain other ascetics and Brahmins having partaken of alms of the faithful, resort to destruction of grasses, trees and creepers germinated by seeds., roots, stems, joints and cuttings. He does not store food and drinks, nor hoards linen, furniture, perfume, sesame seed and grain for later use,
While still others feeding on the food of the devotees lend an ear to humorous anecdotes, watch musical performances and magic shows such as making dead bodies rise from the grave, watch stage plays, play of drums and cymbals, watch elephant combats and fights between horses, bulls, goats, rams, cockerels and quails, witness such comical sights as wrestling bouts, boxing matches, games played with balls, wars being waged, inspection of battalions and military camps, Samana Gothama refrains from viewing such void displays.

Whereas some ascetics are addicted to pleasurable pursuits like games of chess played on boards and in the air, hopscotch, spillikins, games of dice, pipe blowing and doing somersaults, playing with toy ploughs, cars and windmills, bows and arrows, indulge in guessing games concerning letters and thoughts and mimicking people with deformities, ascetic Gothama refrains from such hollow practices. Certain ascetics remain addicted to high and wide beds and couches with awnings adorned with elaborate carvings and ornaments, covered with plush gold and silk coverlets, whereas Samana Gautama refrains from the use of such items. Whereas certain ascetics and Brahmins feeding on the food given by the faithful have their bodies perfumed, caressed, bathed in scented water, massaged, watch their images on mirrors, wear bracelets, cosmetics, gems, headbands, turbans, sandals and shoes, long white robes and talismans, ascetic Gothama abstains from such self-adornment
and pampering.

Certain other ascetics having partaken of alms offered by the faithful indulge in thirty two types of meaningless drivel about kings, ministers, thieves, armies and wars, consumables, carriages, towns, cities and nations, on women, heroic deeds of men, of the departed ones and speculation of matters of land and sea, whereas Samana Gothama refrains from such idle chatter.