---
People believe Nita quit at the peak, in fact, she is now artistically at her peak…It is our cinema that's found wanting.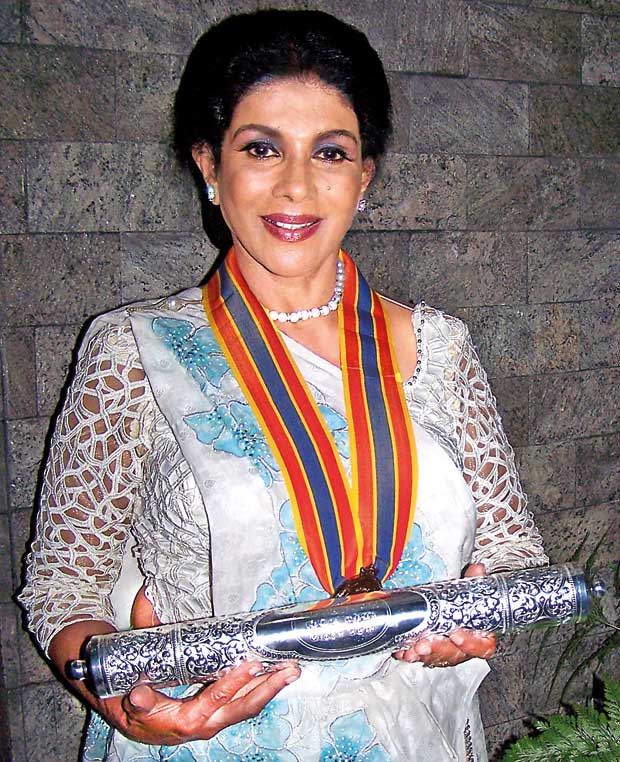 Nita posing for a pic at the National Awards held on March 20th, 2017 after receiving the 'Kalashoori' at Nelum Pokuna given to her by the President.
In Sri Lankan cinema, acting careers usually follow a linear path. When a name has been made after the initial breakthrough, an actor or actress can expect a lengthy career, which will last a lifetime, though that is changing now with fewer films being made though the competition is still not comparable to the West, where careers are shaky due to fierce competition.
Nita Fernando is one exception to that general rule. She enjoyed extraordinary success in the first eight years of her career, making over 40 films and running neck to neck with Malani Fonseka. Then she married and migrated to Canada, and returned after a break of 21 years. Her comeback film Pauru Walalu brought her critical acclaim and revived her career. In this interview, Nita talks about her artistic resurrection and the motivation behind it.
In 1965, an attractive schoolgirl from Holy Family Convent, Wennappuwa was introduced to film producer Robin Tampoe, the head of RK Studios, by a relative.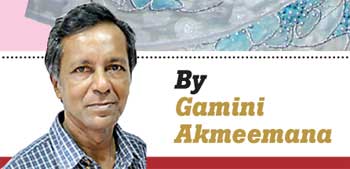 Despite strong parental objections, particularly from her mother, Nita was signed on to act in Robin Tampoe's Landaka Mahima with Joe Abeywickrema, though her first screen appearance was in a song sequence in the film Sathutai Kandulai.
Her first film would have been Gamini Fonseka's Parasathu Mal, but she missed the opportunity.

Nita's ambition was to be a dance teacher. She comes from a family of teachers. Her grandfather was the first teacher appointed to the Government School at Katuneriya.
Though she excelled as a dancer (As one can see in the film Matara Aachchi) her childhood ambition was cut short by entry to the world of films. Her rise as a film star was so hectic that she could not even complete her Advanced Level examinations.
Prior to her entry to films, she had only a limited exposure in stage plays and no training in the art of acting. While schooling, she took part in Pantalion Kurukulasuriya's Narabilla. Her best-known stage effort was in Gunasena Galappaththi's Sandakinduri.
Though she became a film star almost overnight, Nita was essentially a product of the 60s culture, obedient to her parents and peers, but she became a film star at a time of social upheaval and rebellion.
Not that she became a rebel; like many actresses of the era, she was accompanied by her mother to film locations. But she was different nevertheless from the established stars of the time because the Sinhala film, though slow to change, allowed more leeway from the 1960s to newcomers than it did to Rukmani Devi, Florida Jayalath, Jeevarani Kurukulasuriya and Sandhya Kumari, who worked within a cinematic straitjacket of formulaic roles – the dutiful wife, the wicked-mother-in-law etc.
Landaka Mahima was made in 1968. What followed was a dizzy time, when she acted in 40 films within five short years.
But this 'celluloid reverie' came to an end when she married in 1973.
When she left for Canada in 1975, Nita had the option of doing 13 more films but decided to turn them down. Her husband had given her two years to complete what she had already signed up for.
"That's a trait she shared with Malani Fonseka. She could be sexy without really knowing how to, a trait which attracted men in the audience without posing a threat to the women."

It must have been a hard decision for a young actress at her peak. In the intervening years, she appeared in just one film, content to work as a receptionist in Montreal.
'My husband told me,' she says with a smile,
"I want to take you out of this celluloid world and bring you back to Sri Lanka one day with dignity."
He kept his promise by producing Pauru Walalu, directed by Prasanna Withanage, the story of a middle-aged woman rediscovering love. Her co-star was Tony Ranasinghe. This poignant, understated performance won her the best actress award at the 1998 Singapore International Film Festival plus the Vishawa Kirthi award, the Presidential Award and the OCIC award for best actress.
She has subsequently appeared in Saroja (2000), Nisalagira (2007) and Bambara Walalla (2010). If the film industry had been healthy, this spectacular comeback would have guaranteed her a steady run of mature roles.
But the film industry is hardly healthy, and the kind of roles an actress of the calibre of Nita Fernando now needs come only rarely.
Panshu directed by young filmmaker Visakesh Chandrasekharan offers her one such role, that of a working-class mother looking for her disappeared son.
Actors mature and grow while acting. Nita Fernando has shown that, if they can keep their inner focus and drive, they can do it even if they take a long break from their profession.

Talking to her, one can sense a professionalism and dedication to her craft which can hardly be called typical in Sri Lankan acting, whether on stage or in a film. In the recent stage play Handa Eliyata Wedi Thiyanna, she acted the role of a much younger woman convincingly.
Nita Fernando goes to a gym and believes in physical fitness.
Her role in Panshu demanded swimming skills. She has a natural aversion to water, but she went to a swimming pool until she learned swimming.
While most of her contemporaries have retired or live in semi-retirement, this kind of grit and determination keeps her professional life alive. "I learned to do the backstroke, and am now glad that I can actually swim," she laughed. While her main interest is film, she won't miss any opportunities in the theatre. But there again, with Sri Lankan theatre leaning heavily towards 'entertaining' comedies, the kind of demanding roles she would like are rare.
Looking back, Nita mentions three films that stand above the rest – Vijaya Dharmashri's Duhulu Malak, Pauru Walalu and the yet-to-be-released Panshu.
Duhulu Malak is one of only two Sinhala films with a lip kissing scene, and is a testimony to Nita Fernando's daring, as one can think of many would have turned down that role because of that kiss.
While one might conclude that her decision to leave for Canada robbed her of opportunities to appear in the 'serious' (i. e. artistic) cinema stream, an assessment of her commercial film roles (the bread and butter of all top actors and actresses) reveal a number of roles with sensitivity and some depth.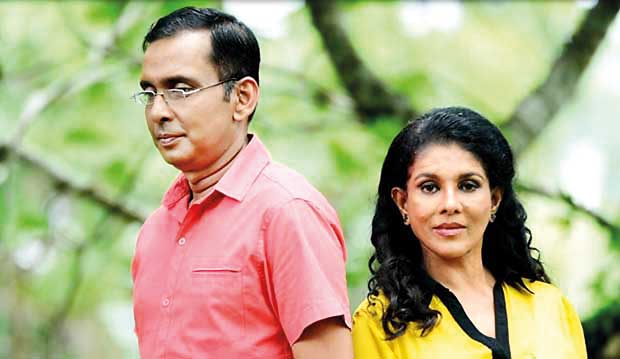 Nita in the new stage play Handa Eliyata Wedi Thiyanna

Within the commercial straight jacket with its song-dance sequences and two-dimensional and predictable characterisation, she strove to get some artistic leeway. The thinking actress that she is can be glimpsed occasionally in these films, which isn't her fault since weak and formulaic script writing didn't leave her with much scope to explore her artistic sensibility.
Hadawath Nettho, where she plays a domestic servant forced into prostitution, is one which rises above the commercial formula, allowing her some scope. Shanthi, another tragedy where she is jailed for murder, too, gave her some acting leeway.
Other early films such as Matara Achchi, where she plays a sophisticated, westernized young woman, gave her an opportunity to display terrific dancing skills and little else.
But this, along with Rajagedara Paraviyo (Also directed by Sathischandra Edirisinghe), and those directed by the talented Titus Thotawatte (Lasanda, Mangala and Sagarika) offered her roles with great charm where she could best use her girl-next-door ambiance to the full. That's a trait she shared with Malani Fonseka. She could be sexy without really knowing how to, a trait which attracted men in the audience without posing a threat to the women.
Her early success and rapid rise can be attributed to both talent and looks – a tropical lushness which stopped just short of being sultry. With a change of make-up, dress and hairstyle, she could portray the sophisticated urbanite or the 'unspoilt' village girl (Always an endearing part of our film mythology) equally convincingly.
In Hadawath Neththo, she is a village girl turned-domestic forced into prostitution. When Robin Fernando, a hard-boiled worker from the Colombo Port, falls in love with her even though he meets her as a streetwalker in crude makes up, this is entirely in character because her demeanour naturally suggested a victim rather than a predator.
She carried an air of vulnerability in whatever mode. People believe that Nita Fernando quit at the peak of her film career. In fact, she is now artistically at her peak, able to get under the skin of demanding roles. It's our cinema that's found wanting.