---
Colombo Cardiology unit blocked by patients

The crowd at the Cardiology Unit on Monday
Patients throng clinics seeking much-delayed medical help

Journalists were chased away by security
With curfews relaxed and normalcy being restored, hospitals countrywide are facing a new challenge in coping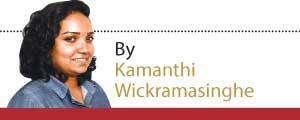 with the sudden influx of patients seeking medical check-ups and tests which were delayed during the lockdown period. Further, new safety guidelines are making it hard for hospital staff to control large crowds while ensuring people maintain a safe one-metre distance from each other as they wait their turn.
"New safety guidelines are making it hard for hospital staff to control large crowds"
Cardiology Unit after curfew
On Monday, June 8 large crowds were seen in front of the Cardiology Unit of the National Hospital of Sri Lanka (NHSL) even after curfew restrictions were lifted. There were queues extending from Punchi Borella on one end to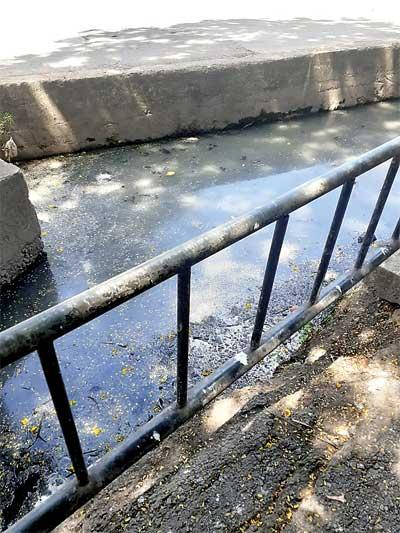 Sewage outlet near Maligawatta Nephrology Unit
Repeated attempts to contact National Hospital Director Dr. Kumara Wickramasinghe and Health Minister Pavithra Wanniarachchi proved futile.
De Saram Road on the other. When Daily Mirror visited, security personnel prevented the writer and photographer from talking to people or taking photographs, even from outside the premises. Announcements could be heard asking patients to maintain social distance and adhere to health guidelines until their turn for check-ups and treatment.
K. Karunaratne was standing outside waiting for her son to get his turn. "We came from Gampaha. My son has been waiting his turn since morning. The hospital is adhering to guidelines. So there's less space for the crowd."
Yohan Shalon and Rukshan Maleesha from Ragama were accompanying their father who was visiting the clinic after bypass surgery. "Patients are inconvenienced. But our father had to come because he couldn't visit the clinic during the curfew days," Maleesha said.
Lack of infrastructure
Thousands of patients regularly visit cardiology units for treatment and check-ups. But due to pandemic health guidelines, hospitals are struggling to maintain proper physical distancing among patients as they lack proper infrastructure and facilities. Some units have conducted 20 clinics at a given time with over 3000 patients attending the clinics. But only 500 patients can be accommodated per day. This further inconveniences patients, especially if they have health conditions where they cannot stand for long hours or tire themselves too much.
Patients shun regional centres
"Before the pandemic, patients mostly visited clinics based on appointments," a source at the NHSL Cardiology Unit who wished to remain anonymous said. "But soon after curfew restrictions were lifted, patients who had missed out on their clinic days began flooding in. Although regional centres have been established, patients keep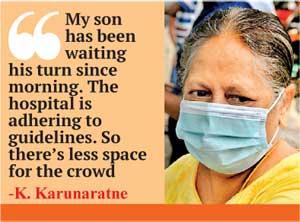 returning to the NHSL Cardiology Unit for treatment. This makes it difficult to find a solution for an issue that has been recurring for years," the source said.
Patients face risk and inconvenience as some have swollen legs, and those with weak hearts cannot exert. "To control crowds we took all their clinic books and gave them medicines for two months. However in the long-term they can utilise the regional system that has already been established. Therefore a patient from Hambantota or Matara can visit the Cardiology Unit in Galle. They don't have to come to Colombo again. The postal system too has worked because medicines were posted to them and it was indicated in their books," the source said.
The source added at any given time around 1000 patients walked in and out of the NHSL Cardiology Unit. "The building is too old. The existing premises cannot be expanded further. We can reintroduce the appointment system and give patients a time to visit so they can maintain physical distancing and adhere to the health guidelines."
Nephrology Unit during curfew
Even during the curfews, patients needing daily treatment like dialysis had to endure a series of unpleasant encounters. A case in point was the shoddy treatment meted out to patients at the National Institute of Nephrology Dialysis Transplantation in Maligawatte. "The surroundings were unhygienic with an open drain that emanated a strong stench," a guardian of a dialysis patient who wished to remain anonymous complained. "The sewage outlet even has faeces from nearby latrines, and the venue was not suitable for kidney patients at all. There were flies and crows everywhere. Due to the COVID-19 situation patients were asked to stand outside the gate. After repeated protests the patients were taken in and were allowed to sit under a canopy. There again there was no social distancing whatsoever."
"Although regional centres have been established, patients keep returning to the NHSL Cardiology Unit for treatment"
The institute has 21 dialysis machines and each session takes four hours. "Patients were taken in at 6am, 11am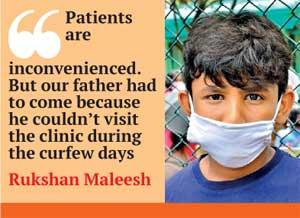 and 4pm.But there were days when they had to keep waiting till the following day," the source said. "Due to the curfew situation, patients couldn't go anywhere to have food or even drink some water. I remember one patient having an infection in the fistula of his arm. Most kidney patients die due to secondary infections and not necessarily because of their kidney failure. So their immune system must be strong. But such unhygienic conditions make them even more vulnerable to infections."
The source added there were many robbers and beggars in Maligawatta. "If beggars are not given money they scold the people.Patients who come from rural areas are not used to these experiences in Colombo. We suggest that hospital officials to utilise the car park as a waiting area for patients."
However, when Daily Mirror visited the Nephrology Unit earlier this week there were no patients waiting outside. This is likely due to curfew restrictions being lifted and patients being able to lodge at a nearby relative's or friend's place until their turn.
Pics by Waruna Wanniarachchi