---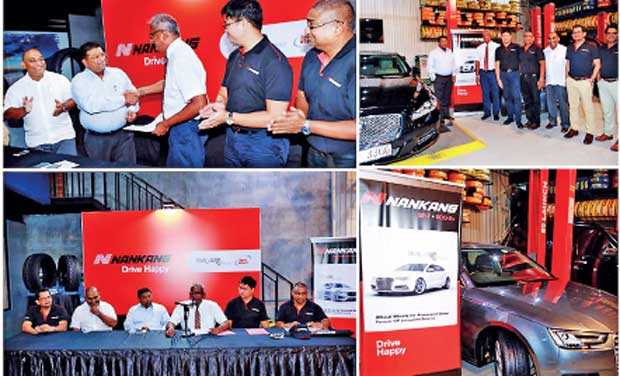 Nankang, a well-known tyre in Sri Lanka for over 25 years, is now seeing significant and rapid growth in Sri Lanka's high/ ultra high performance range of tyres used in top brands such as Audi, Jaguar, Range Rover, Mercedes and BMW.
Smart wheels, the flagship retailer of Nankang band is now offering a range of new range of Nankang ultra high performance tyres such as NS-20 for cars, SP-9 for SUV's which are 'all season' tread designs for highway speeds, ideal for Sri Lanka road conditions and are meeting up to the high expectations of many discerning owners of these prestigious marques. Transcend drive, the luxury VIP Limousine service in Sri Lanka, who are currently contracted with Colombo's premier 5- star hotels Cinnamon grand and Cinnamon Lakeside partnered with Nankang to move its fleet consisting of high end premier vehicles on Nankang ultra high performance tyres. Commenting on the partnership, Krishan De Silva- Managing Director of Transcend Driver said "not only does high performing cars need high performing tyres, the tyre we use has to provide us 'best value' in a commercial sense and also ultimate comfort to our VIP customers. That is the reason why we chose Nankang as our preferred brand of tyre." Managing Director of Smart Wheels, Rohan Fernando said that "we are very pleased to partner with Transcend Drive and look forward to providing a professional solution to Transcend'styre need in the future"
Nankang ultra high performance tyre range consists of a plethora of sizes from 15" to 24" for cars, SUV's and 4x4 categories in very attractive and high tech patterns NS-2, NS-20, AS-2+, SP-9 and FT-7.