---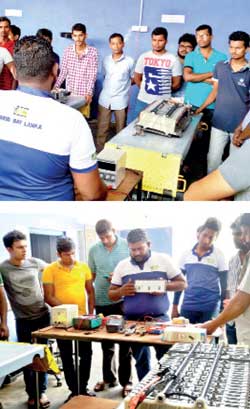 Paving the path for a highly paid career in Sri Lanka, Ambalangoda Hybrid Bay Lanka Company conducts courses on automobile repairing for over a 10-year time period and has given birth to qualified automobile mechanics.

"Maintaining and repairing hybrid vehicles in a way similar to maintaining and repairing normal automobiles are harmful to the vehicle as well as to the lives. Therefore, when maintaining and repairing hybrid automobiles, mechanics who have experience regarding hybrid automobiles have a high demand in both the local and foreign job markets," says Ganesh Alpitiyage, Chairman of Hybrid Bay Lanka.

The specialty in this programme is that it is a 100 percent practical course which gives knowledge in properly maintaining and repairing hybrid auto mobiles. Courses are conducted as 2 years and one-year full time courses as well as 6 months and 3 months part-time courses.
5 days and 10 days stay in courses are conducted for those who wish to migrate or start their own business.Those who follow the short-term course get food and lodging free and at the end of the course, an internationally recognized certificate is given. After the course Hybrid Bay Lanka service center offers
practical training.