---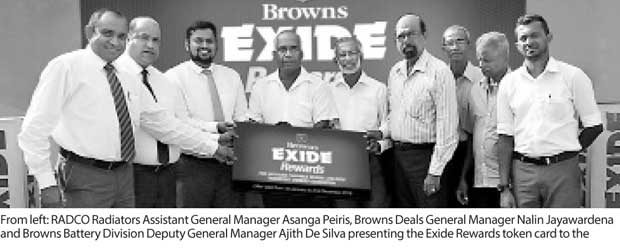 Browns Exide, the market leader in the automotive battery industry in Sri Lanka, together with RADCO and Browns Deals, recently introduced their latest innovative service 'Exide Rewards' to the customers of Browns batteries.

The initial batch of the Exide Rewards loyalty cards were distributed to the executive committee of the Western Province School Children Transport Owners' Association on January 24th 2018.

Customers with Exide Rewards loyalty cards can enjoy a spectrum of offers by Exide and its partner vendors. The loyalty programme currently avails the users to a wide variety of products from Browns Exide, RADCO, and Browns Deals.

Browns Exide always identifies the importance of rewarding customers through value additions such as this. "The Exide Rewards loyalty programme is the latest value addition to our portfolio to retain our legacy as a dynamic solutions provider in the Sri Lankan Automotive Battery market," noted Browns Battery Division Deputy General Manager Ajith De Silva, at the event of distributing the maiden batch of Exide Rewards loyalty cards. "The Battery Division also consists of an islandwide Battmobile service that provides customers road-side assistance or door-step service in emergency situations where it is required to replace a battery or start up a vehicle having ignition problems," added De Silva.
With the Exide Rewards loyalty card, customers are entitled to enjoy discounted rates on automotive radiators and coolers used in power generators by RADCO, the fastest selling radiator brand in the island and a range of world's most sought-after electronic brands and home appliances such as Sharp, LG, Samsung, Sony, Panasonic, Philips, JVC, Toshiba and Sanford for the lowest prices in Sri Lanka through Browns Deals.

"As Sri Lanka's most trusted heat exchanger brand, RADCO, strategically expanded the product portfolio within a shorter period and became the first and the only radiator brand in the island to receive the SLS 740 and ISO 9001:2015 Quality Standards Certifications. As RADCO accounts for 65 percent in the motor vehicle radiator market and 85 percent in other heat exchanger category, we anticipated offering more discounts to our valued customers. We are delighted to partner with our highly successful sister company Exide in their Exide Rewards loyalty programme to maximise our loyal customers' chances to enjoy a wider variety of discounts," noted RADCO Radiators Assistant General Manager Asanga Peiris at the event.

"At Browns Deals, you can buy a wide range of electronics, home and kitchen appliances from world-renowned brands with discounts from 40 percent to 75 percent. As we partner with Exide's loyalty programme, the customers with Exide Rewards loyalty card can enjoy unbelievable discounts for day-to-day equipment with trusted Browns Warranty backed by a strong technical team," added Browns Deals General Manager Nalin Jayawardena.

Browns Exide and the partner vendors pledge their loyal customers that they are offered the best quality products equipped with premium technology with over 140 years of Browns excellence and trust.