---

The world around us is developing rapidly, and this advancement sometimes comes at a cost. Obesity results from a sedentary lifestyle and an unhealthy diet. These two factors are a huge drawback in a country's progress, especially with low and middle income countries. Obesity is a worrying condition especially with children. It has the potential to negatively affect the future generation. According to the WHO, in 2016, the number of overweight children under the age of five was estimated to be more than 41 million, worldwide. Even more alarmingly, almost a half of these children were estimated to be living in Asia. Similarly, childhood obesity has become a big problem in Sri Lanka too. Therefore, we contacted Dr. Shanthi Gunawardena, Consultant Nutritionist at the Ministry of Health to clear doubts associated with Childhood Obesity, its causative factors and the preventative measures that we could take.

How does one identify childhood obesity?
Even though we use Body Mass Index (BMI) as a form of measures in monitoring weight in adults, the same can't be done with children because their bodies undergo many physiological changes when they are young. "We have growth monitoring charts to monitor their growth during childhood," said Dr. Gunawardhana.
A child is exclusively breast fed until he reaches the age of 6 months. And if the child is healthy and sufficiently breastfeeds there should be a steady growth. This growth can be monitored using the growth chart in their Child Health Developmental Record (CHDR). After 6 months, complementary food is introduced into the diet in addition to breast milk. If the child is over fed or under fed, we could again identify from the CHDR", explained the doctor.
The child's weight is continued to be monitored and recorded up until preschool years in the CHDR. In school too School Medical Inspections are conducted and obese children are referred to the MOH or the hospital nutritionist. "Even parents can measure their child's BMI, and compare it with the chart included in their CHDR, which covers all ages up to 19 years of age. If the child is between the normal weight ranges, he should be within the green coloured lines," she elaborated.
What is the cause of Childhood Obesity?
The most common cause for obesity is the energy imbalance between the calories consumed and the calories expended. The high calorie, high salt diet as well as the physical inactivity are the usual culprits.
According to Dr. Gunawardhana, most cases of childhood obesity present after the age of two years, because they are completely weaned off milk and are eating the family diet by that time. So the fast food, refined sugar and high salt that are included in the family's diet become part of their diet too.
"Most parents or babysitters are used to feeding children with biscuits and fast foods (short eats) to keep them from fussing. These foods are high in carbohydrate and sugar content. They usually sit the child in front of the television and feed them while watching the teledramas etc., As a result more food than required is usually fed to the child unknowingly," explained the doctor. "Even when the family is following a healthy diet, children may be attracted by the eye catching
advertisements associated with fast foods and demand them. This leaves parents with no alternative, but to buy these fast foods," she said.
Eating salt rich food also contributes to weight gain because they increase water retention. If such foods continue to be present in the diet for a long time they may give rise to more serious conditions like high blood pressure and even heart attacks, warned the doctor. "Formula feed also contributes to weight gain because of the composition which is different to that of normal breast milk. Therefore Formula feed should not be used as an alternative for breast milk without medical advice," she cautioned.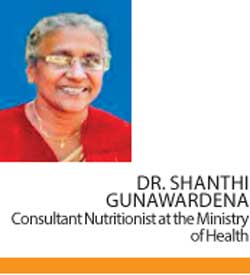 She also explained that the lack of physical activities resulting from the modern recreational activities popular with children, like video games, mobile and watching television, also play a major part in weight gain. Most urban houses lack space outside for children to play, and even when there is enough space, parents are reluctant to let children play, fearing they'll fall and injure themselves," she elaborated.
Rarely, the cause of obesity may be an underlying disease or a hormonal imbalance, like the thyroid deficiency, added Dr. Gunawardhana.
Obesity outcomes
In addition to having a psychosocial issue worrying a child due to stigmatization as 'fat', which may result in long term behavioural changes, obesity in long term affects a child's physical health significantly.
Childhood obesity has a high risk of continuing into adulthood, which will give rise to a multitude of problems including Diabetes, Hypertension and High Cholesterol, early in their lives. "Children as young as 10 or 11 years present with Diabetes and even heart attacks, and the main cause for this is obesity," Dr Gunawardhana said. They are also more likely to develop some forms of cancers like colon cancer and osteoarthritis.
In addition, overweight girls are at a higher risk of early menarche. They are more prone to develop a condition called Poly Cystic Ovarian Syndrome, which causes a girl to develop masculine features like growth of facial hair and to cause sub fertility later in their lives, she explained.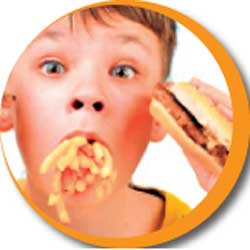 Treatment and prevention
"When an obese or an overweight child is presented to a nutritionist, we obtain the history from them, including a dietary history. Investigations may be needed to exclude pathological obesity, which is a result of other underlying disease conditions," said the doctor, further explaining that after excluding other causes, the child and the guardians are given advise on dietary and lifestyle modifications.
"Ideally, our diet should include a minimum of two types of vegetables, one type of green leaves, and two types of fruits per day, which should be distributed throughout the meals. 6/8 glasses of water per day is recommended. However this may change depending on the amount of activity or the climate etc. Less than five teaspoonfuls of sugar and one teaspoonful of salt is the ideal amount per person," said the doctor, adding that usually a 175ml bottle of soft drink carries more than 5 spoonfuls of sugar.
"Every child should be allowed to play outside for at least one hour per day," stressed Dr.
Gunawardhana. She further stressed that physical activity like running around, climbing and jumping was recommended.
She also had a warning for parents of infants and toddlers. "Parents tend to think that chubby children are cute and ignore the doctors advises in preventing obesity. This should be discouraged because obese babies have a very high chance of developing into overweight adults," she cautioned.
She concluded the interview, stressing on the importance of preventing both obesity and malnutrition by maintaining the child's weight keeping with his age and the height by following a healthy diet and an adequate physical exercise programme or activity.