---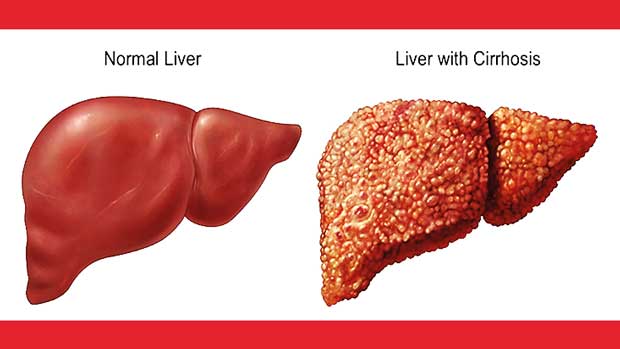 If a parent or sibling has cirrhosis due to non-alcoholic fatty liver disease, a person's odds of having liver scarring are more than 12 times higher than for people without close relatives who have this condition, a small study finds.

Non-alcoholic fatty liver disease (NAFLD) is the build-up of extra fat in liver cells that is not caused by drinking alcohol. It's the most common cause of liver disease in the U.S., the study team writes in the Journal of Clinical Investigation.

The more severe form of NAFLD, non-alcoholic steatohepatitis (NASH), tends to develop in people who are overweight or obese or who have diabetes, high cholesterol or high triglycerides, according to the American Liver Foundation.

With NAFLD, the liver may swell and develop scarring, known as fibrosis, or cirrhosis in its more advanced stages. NASH often leads to more serious liver diseases, including liver cancer. About a quarter of people with NASH have cirrhosis.

Past research has suggested that NAFLD can run in families, but it wasn't known if family members are also prone to developing fibrosis and more serious liver diseases.

"My goal is to change practice to develop screening guidelines for who are the patients who are at high risk for developing cirrhosis and should we be screening them," said senior study author Dr. Rohit Loomba of the NAFLD Research Centre at the University of California, San Diego in La Jolla.
One reason family members' risk was poorly understood is that a diagnosis of fibrosis required a biopsy, which is a painful medical procedure. But Loomba and colleagues devised a way to detect fat and scarring in the liver using MRI scanning.

For the current study, Loomba and colleagues enrolled 26 patients with NAFLD and cirrhosis, along with 39 of their parents or siblings, as well as 69 people without liver disease plus 69 of their first-degree relatives.

The study team took medical histories, performed medical examinations and used MRI to evaluate the livers of all participants.

They found that three quarters of the relatives of patients with NAFLD and cirrhosis also had NAFLD. Seven of these people, 18 percent of family members, also had advanced liver fibrosis, compared to 1.4 percent of the relatives of controls. The family members of NAFLD-cirrhosis patients were 12.5 times more likely to have liver fibrosis than the healthy comparison families.

"The data's very compelling. It reinforces smaller and less well-conducted studies that indicate a higher likelihood of non-alcoholic fatty liver disease fibrosis among family members," said Dr. Scott Friedman, a liver disease specialist at Mount Sinai Hospital in New York who wasn't involved in the study.

"So, it's important, because it may heighten our concern about the risk of undiagnosed liver disease in first-degree relatives of patients who've been diagnosed with NAFLD, particularly those who have more advanced fibrosis," Friedman said in a phone interview.

There has been a rising awareness and incidence of liver disease associated with so-called metabolic syndrome, which is a constellation of abnormalities usually including obesity, insulin resistance, high blood pressure and high blood fats, Friedman noted. -(Reuters Health)