---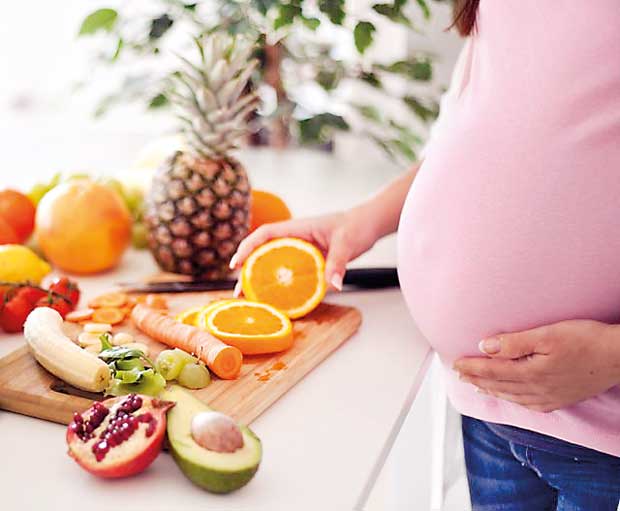 By R.M.R.V.Samarakoon
Every stage of life is very important for a person's well-being or the quality of life. If someone opines that the nine months during pregnancy and the period of lactation are most critical among other things, it is an uttermost truth, not only for the baby, but also for the mother. The success of this process depends on many factors, most of which are modifiable. Maternal nutrition is one of the most important factors for well-being.

Based on research, 12.5kg is considered as the physiological norm for average weight gain for a full-term pregnancy lasting 40 weeks. On average, this level of weight gain shows to be associated with optimal reproductive outcome and was used as the basis to estimate the component of weight changes in healthy pregnant women. Given this reason women must eat sensibly during pregnancy and lactation. The fetus acts as a parasite within the mother and some nutritional deficiencies of mother will have adverse effects on the fetus. With sensible diet and an adequate supply of nutrition, a mother will not suffer from any deficiencies throughout pregnancy. Ideally, a pregnancy must be planned and a part of the preparation should be to ensure the normal weight of the baby.

When talking about a healthy diet during pregnancy, the amount of food a pregnant woman should consume varies according to her level of physical activities and her body weight. There is only a minor increase in nutritional needs during the first three months of pregnancy (first trimester) and this keeps on increasing steadily to reach a peak in the third trimester (after 28 weeks of pregnancy). In that case diet is very important to fulfill all these nutrition needs during pregnancy. During this period the diet should include sufficient energy giving food to ensure weight gain at a desirable rate. An adequate amount of fluid (minimum of 8-10 cups/day) should be taken and a sufficient amount of fibre rich food should be included in the diet to prevent constipation. At least one glass of milk product should be consumed each day. Also remember to avoid alcohol and active or passive smoking. When talking about the requirement of micro nutrients during pregnancy, lack of micronutrients can have adverse effects on the pregnant mother and the new born baby.

The intake of iron should be increased during pregnancy to meet the need to increase red blood cell production. This condition helps the growth of the baby.

Iron-rich food is also recommended. Also recommended is vitamin C rich fruits and vegetables. But the Sri Lankan diet lacks iron rich foods. In such instances it's recommended to take iron supplements daily during pregnancy and lactation. Iron supplements should be continued for six months after delivery to replenish the stores and to prevent future iron deficiency anemia in mothers.

When talking about Folate, it helps to prevent neural tube defects in the fetus. Its intake should be increased before conception to achieve maximum benefits and continued through-out pregnancy. There are plenty of food items rich in folate such as Dark green and other vegetables-Thampala, Curry leaves (karapincha), Ladies fingers, Lima, Spinach, Beets and most vegetables.

The consumption of iodized salt will satisfy the pregnant mother's Iodine requirement. It's better to add moderate amounts of salt after cooking to prevent loss of Iodine during cooking.

As pregnancy period and lactating period is very important in terms of nutrition, the above mentioned dietary habits can be very helpful for a healthy life. The careful selection of a diet which covers all bases of general and additional nutritional needs will ensure that you and your baby will be healthy and strong.

(The writer is an undergraduate at the Department Of Applied Nutrition, Wayamba
University of Sri Lanka)