---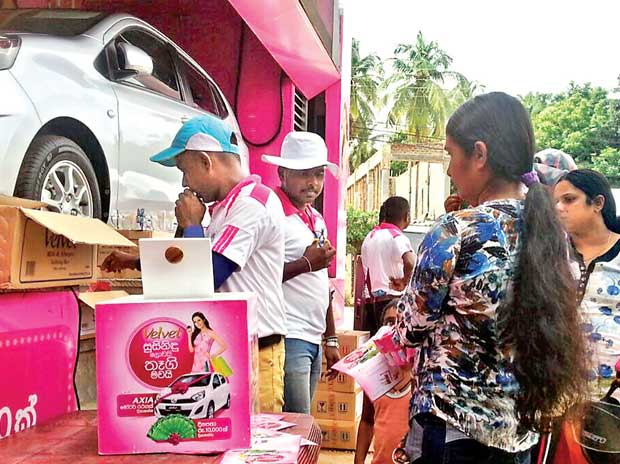 Velvet, Sri Lanka's leading beauty soap brand, launched 'Velvet Susidinu Lovai – Thagi Mavai', a novel promotion in spectacular style recently.

The activation of the new high-profile campaign offering exciting prizes for consumers began during the first week of November in the Eastern Province and will cover in 45 major towns and cities including those located in North, South, Western and Central areas of the country.

The attractively decorated Hemas Velvet mobile truck will visit these areas and consumers will be able to purchase promotional packs from Velvet's captivating portfolio. Consumers can also participate in a lucky dip and instantly win exciting prizes.

"Consumers have already enthusiastically welcomed the campaign with an overwhelmingly positive response with fans flocking to the activation truck during town to town stops. Velvet is recognised as a much-loved Sri Lankan brand and our consumers enjoy engaging whenever possible with the Velvet team knowing we also reward them for their participation," said Hemas Manufacturing Hemas Consumer Brands Senior Brand Manager Anushka Sabanayagam.

Velvet's new consumer promotion truly affords consumers a win-win proposition. Not only are they rewarded with glowing skin but they can also win daily cash prizes.
Participating and winning has also been made simple. During the promotion period October 2017 to January 2018, consumers who purchase a Velvet soap double pack have to simply scratch the card included in the pack and SMS the alphanumeric six-digit secret code to 8866.

A winner will be chosen daily for 90 days providing an opportunity for 90 lucky winners to win cash prizes of Rs.10,000 each. During the promotion period, names of all winners will be published in the newspapers, on TV and through Velvet's Facebook page (www.facebook.com/VelvetSriLanka/photos). At the end of the competition, all winners of the daily cash prizes too stand a chance to enter the raffle for the grand finale, the new stylish Perodua Axia car.

Velvet soaps are available in a range of fragrances: Velvet Rose and Pomegranate, Sandalwood and Venivel, Purple Lotus and Lavender, Honey and Yoghurt, Milk and Almond, Water Lily and Sea Minerals and Kohomba and Aloe enriched with hydrosoft technology to offer consumers a better bath experience.

Velvet's fragrances have been perfected for all Sri Lankan skin types ensuring skin remains moisturized with a softer feel. The Velvet range of beauty soaps is locally manufactured, according to the highest standards, specially formulated to leave skin soft and cared for.

Adding to its attractive skin care portfolio, in 2016, Velvet launched its body wash range. The three refreshingly luxurious fragrances of Rose and Milk Cream, Milk and Almond, Lotus and Lavender give you a pampered bath experience.