---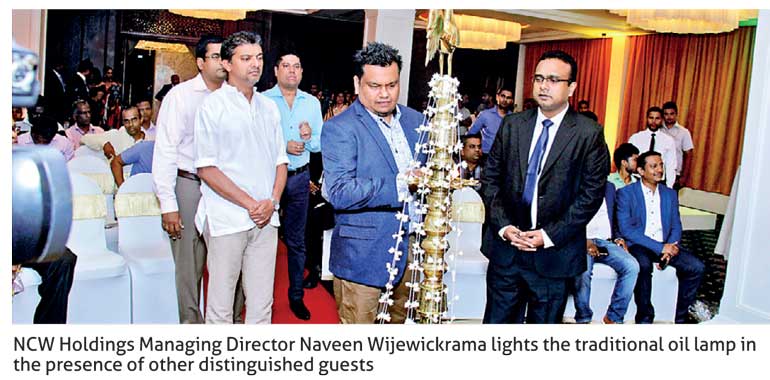 Addressing the media representatives who participated in the ceremonial launch of the Sri Lankan operations of NCW Holdings – the prestigious Australian specialists in facility management services – NCW Holdings Managing Director Naveen Wijewickrama stated he was happy to announce that NCW Holdings will expand, extensively improve and refine its services, in Sri Lanka, from now on.

This event took place at The Kingsbury Hotel Colombo, enabling the members of the media to obtain a comprehensive view of the advanced facilities NCW Holdings will provide for the benefit of Sri Lankans.

The Sri Lankan operations are enriched by a group of disciplined and highly trained young professionals, who are exceptionally qualified to bring in an ultra-new experience, to the field of facility management services in this country. They are ready to elevate these services to a higher and more sophisticated level.
"Our commitment is to present our clients a totally fresh experience, utilizing state-of-the-art equipment," Wijewickrama said.

Wijewickrama, an expert in all areas of hospitality services, possessing extensive familiarity with advanced methods and techniques, through his grasp of local and international trends, over many years, describes his experience: "I reside in Australia, upholding the image of Sri Lanka, in that country. I was able to expand my business enterprise, within a very brief period of time.

It is a matter of great happiness for me to state that I was able to establish myself firmly in the three sectors – facility management services, house-keeping services and building and construction activities. It is with tremendous pleasure that I state here that 200 well-trained young men and young women from Sri Lanka are employed at NCW Holdings - the parent company of this local operation.

I am humbly proud to introduce myself as the Sri Lankan owner of a business enterprise, contributing our services to a whole host of internationally recognized institutions. I make this statement because I have been able to guide many Sri Lankans to make their dreams a reality. Being able to establish a branch of NCW Holdings in Sri Lanka, as the beginning of a yet another step in this process, is indeed a victory won by our company."

Continuing his statement, Wijewickrama said, "Our company has been able to expand into a new era, beyond the limits of traditional housekeeping services that existed until recent times. Today, the opportunity has dawned upon us – that will make it possible for us to provide a unique and reliable service to all the institutions in Sri Lanka, in accordance with international standards, utilizing the latest technologies to the maximum.

I am extremely happy to state that it is our institution that has created the opportunity to the young men and women of our country to obtain new avenues and ways of employment. Besides, it is our institution that offers the highest range of salaries in Sri Lanka at present.

Ministers, members of parliament, experts in various fields, media personnel, members of the business community, sports personalities and other distinguished individuals graced this occasion.
Caption

1

NCW Holdings Managing Director Naveen Wijewickrama addresses the gathering

2