---
Babybear Boutique Sri Lanka opened its doors bringing a world of wonder to Lankan shores a year ago and in celebration of its first anniversary, it's offering all clients a savings from 20 percent up to 40 percent and a host of various activities for the season.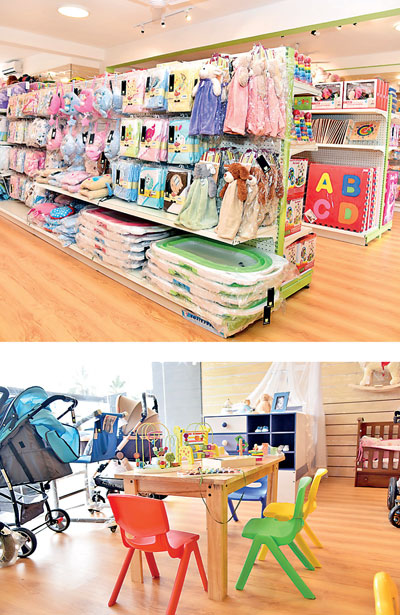 Babybear kicks off the festive season with its signature 'Play Date for Mums and Bubs' that will take place today at the flagship store at No: 35 Pagoda Road, Nugegoda.

Kids between the ages of six months to three years are invited to meet Santa Claus and have an exclusive photo shoot where they will be able take home a memorable picture with Santa. There will also be a host of seasonal themed, toddler-friendly activities such as making crafts for Christmas, decorating Christmas cookies and tons more.

Babybear comprises a wide range of baby essentials needed to care for your baby or toddler such as clothing items, toys, diapers, travel strollers, feeding gear, swimwear and extensive range of baby-proofing products. The exquisite baby and toddler products available at the store are sourced from Australia, the UK, Europe, America and are all designed to offer maximum comfort, safety and quality for your baby.

One of the most popular product ranges at the store is its exquisite bedding sets found at the world-renowned 'Babies R Us' stores and the educational toys section. The linen, pillows, customised cot mobiles, cradles and carrycots that come matched with all the accessories have also been a sensation among the parents-to-be.

Babybear's latest addition is a complete party solutions section that has everything from loot bags, cartoon-themed party needs to glow-in-the-dark accessories. A range of early education toys and books are also on offer to help parents develop their children's reading and motor skills from the earliest possible age.

"Babybear has become a cut above the rest through delivering the 'Awe Factor' as our clients, experience wonder and amazement that all the exquisite amenities they usually only see overseas or on TV or read about in magazines is actually available right here at the most affordable rates at Babybear. This has been one of the keys to our success as people spread the word about our internationally acclaimed products that come at reasonable prices," said Babybear Managing Director/Co-Founder Rae Devadason.

Babybear also has plans to extend its stores to other areas of Sri Lanka in the near future through a franchise model and has eagerly been looking for partners to take the brand to more areas.