---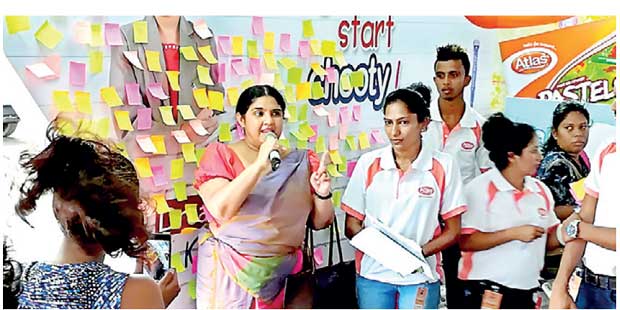 Atlas has for decades been at the forefront of encouraging creativity and passion in children, encouraging them to reach and surpass their potential by opening their minds to new horizons.

The market leader in school and office stationary and a household name for the highest quality stationary supplies, Atlas strives to ensure that every child has access to the tools they need to ensure a fulfilling educational experience.

The presence of Atlas at the Colombo International Book Fair once again reiterated the company's commitment to ensure all children have access to quality educational tools. With a wide array of stationary supplies for all ages and interests, ranging from innovative colouring tools to attractive note books and other stationary and a wide range of office supplies the Atlas stall was a sea of activity and colour, ensuring something of interest for every visitor.

Dedicated to active engagement within the community, Atlas displayed its hands on approach by incorporating games and activities to ensure all visitors were able to actively participate at the stall. This year's activities included a creative corner for toddlers, who were able to unleash their creativity and get as messy as they liked with a plethora of colouring and drawing supplies at their disposal.

Older children enthusiastically participated in a 'Hula Hoop' game, which saw children attempt to throw the hoop onto a target consisting of the new Splash bottle range of Atlas water bottles.

Atlas firmly believes that creativity and opportunity to explore a range of creative activities and media is vital to children's emotional health and growth.
"Creative activities that provide sensory stimulation are vital to a child's healthy emotional and intellectual development and are strongly advice for young children," said Lady Ridgeway Hospital for Children Consultant Child and Adolescent Psychiatrist Dr. Sudharshi Senevirathne.

This year Atlas also ensured the presence of renowned personalities in the field of creativity including Renuka Balasooriya, whose presence highlighted the heights that one can reach simply by engaging in and pursuing a vocation in the realm of creative aptitude.

The visitors to the Atlas selling stall were able to purchase the new additions to the Atlas range, such as lunch boxes, water bottles, the innovative range of premium exercise books, phone accessories and school bags. Aiming to ignite excitement, passion and laying a foundation for a better learning experience, Atlas ensured all visitors had access to the tools required to enjoy their experiences to the fullest at the Colombo International Book Fair.