---

The coronavirus and the two-month lockdown haven't been great for a lot of business – especially restaurants and cafés relying on hungry customers and diners. But turning adversity into opportunity is a special skill we Sri Lankans seemed to have mastered over the years and that is exactly what we've successfully done in times like these. In this series, we talk to people who turned their passion for food and baking into a business idea. Some have been in the market for years and others saw the new opportunity and took it! With dining out now a possibility, these businesses are changing the game and have overcome the odds of running a business during quarantine.
Here's how they did it;
Baker Street Boys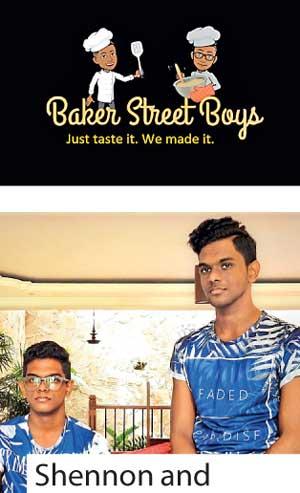 The Baker Street Boys is a lockdown project by two 16-year-old twins Shennon and Shevon Colombage. "We've loved baking since we were really young and the lockdown gave us the time and space we needed to create this hobby into a business. We've always loved watching our dad grow his business and having received love and support for our baking – we decided to try our hand at growing our own business!"
you offer?
Right now, we are currently offering our special Signature Chocolate Biscuit Pudding which is our best seller. In the future we are planning to bring out new products to the market like the famous White Chocolate Biscuit Pudding, Brandy flavoured Chocolate Biscuit Pudding and mixed Dark chocolate and White Chocolate Biscuit Pudding as well as extend our brand to offer products like brownies, cookies and many more.
Q
When did you start operations?
This was actually a lockdown project! We initially started selling our Chocolate Biscuit Pudding to our friends, cousins and neighbours during the curfew period. They all said that we were extremely talented and they absolutely loved our Chocolate Biscuit Pudding. So we thought to ourselves since everyone loved the dessert, why not start a business to sell Chocolate Biscuit Pudding to outsiders and that's when Baker Street Boys came into the spotlight.
Q
What was it like running your operations during curfew?
Just one-word - TOUGH! It was quite challenging to source ingredients from supermarkets. I remember one morning when my dad left home to go to the supermarket very early just so that we could get enough ingredients to supply. The delivering was not so bad because we were mainly supplying to our neighbours and friends so they would come to pick it up from us. My entire family helped us a lot with making the Chocolate Biscuit Pudding and it was the only thing that kept us going during curfew.
Q
Was it difficult to source your ingredients?
Yes, it was very difficult because there were no supermarkets to buy the biscuits or even the chocolate from. However, we still managed to get the ingredients right on time by ordering online.
Q
How are you ensuring proper hygiene measures are taken in preparation and delivery?
We adopt very strict hygiene measures and the fact that this is done in our house by us personally, gives us the chance to take the safety of our customers very seriously. We make sure that the Chocolate Biscuit Pudding is properly sealed and safely packed so that it could be delivered to our customers as safely as possible.
Q
How do you see home bakers going forward post COVID?
Well I'm sure the Baker Street Boys and every other home baker would be successful specially given that there is an increasing demand for quality home baked food. I wish good luck to every other home baker in Sri Lanka.
Orders can be placed
via Instagram
(@baker.street.boys_sl)