---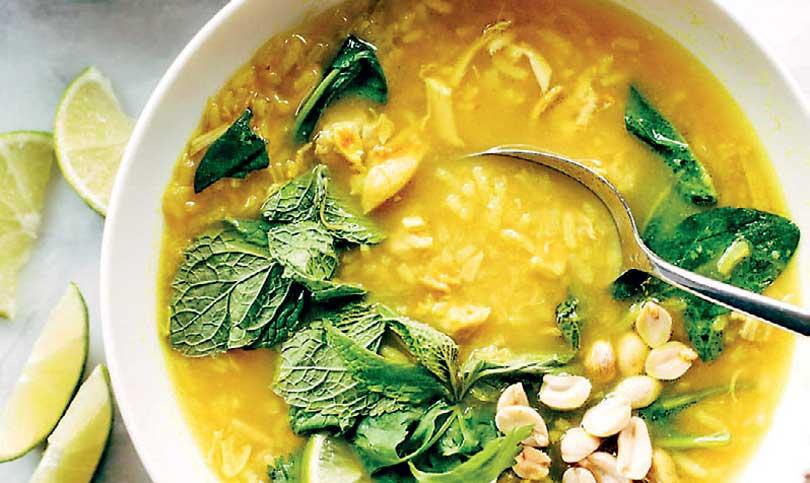 Yes, we have a pandemic on our hands. Yes, our health and those of our loved ones might be at risk. The solution to this is not only to self isolate and eat junk food! The answer to fight the possibility of disease is to keep your loved ones safe, and the first step in accomplishing that is with good nutrition. The quintessential remedy for every cold, flu out there is a good bowl of chicken soup. But why wait till we get the flu, incorporate this healthy soul enriching Asian chicken soup with lots of ginger that helps build immunity, and keep your family healthy and safe from the start. Lets get proactive in order to fight to stop this disease.

INGREDIENTS

2 tablespoons olive oil or sunflower
3 cloves garlic, thinly sliced
2-inch knob fresh ginger, peeled and thinly sliced
1 shallot, peeled and thinly sliced
1 ½ lbs. boneless skinless chicken thighs
1 1/2 teaspoons salt
1 teaspoon turmeric
3–4 cups fresh spinach
1 cup jasmine rice
6–8 cups chicken broth
juice of 4 limes (about1/4 cup, plus more to taste)
a splash of soy sauce or fish sauce (optional)
fresh herbs for topping (mint, basil, cilantro)
peanuts or cashews for topping

Method

Heat olive oil in a large pot over medium heat. Add the garlic, ginger, and shallots. Sauté for 3-5 minutes.

Add the chicken thighs. Sprinkle with 1 teaspoon salt and turmeric. Cook, undisturbed, for a few minutes. (Add 1/4 cup water to the pan to create a little steam bath if it's getting too browned on the bottom.) Flip and repeat until cooked through. Remove chicken and set aside.

Add spinach and 1/2 teaspoon salt to the pan. Sauté for 2-3 minutes until wilted. Remove spinach and set aside.

Add rice to the pan. Sauté for 1-2 minutes so it picks up all the good pan flavours. Add 6 cups broth and bring to a simmer.

While the rice is cooking, shred the chicken.

When the rice is soft,

add chicken and spinach back to the pan. Season with lime juice, soy sauce

/ fish sauce, and fresh herbs. Add extra broth

as needed. YUM.