---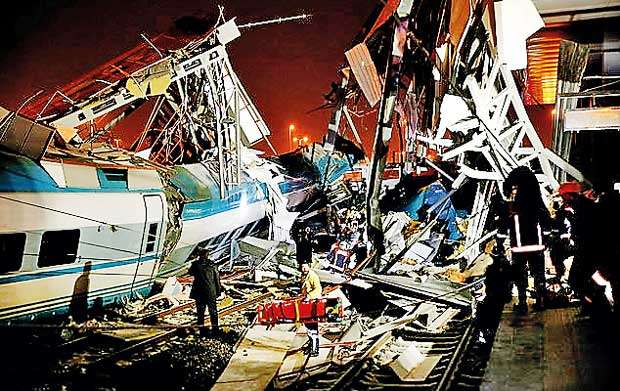 Ankara, (Daily Mail), 13 Dec 2018 - A high-speed train hit a railway engine and crashed into a pedestrian overpass at a station in Ankara this morning, killing nine and injuring 47.

Images from the crash site this morning show rescue teams combing through the wreckage for more survivors.

The accident happened at around 6.30am local time (3.30 GMT) as the train was leaving the Turkish capital to the city of Konya about 130 miles to the south.

The Konya-bound train hit the engine as it was inspecting the tracks at Marsandiz station.

At least two cars derailed, according to a local television channel, while parts of the overpass could be seen collapsed on top of the train.

Several ambulances and rescue teams were sent to the scene. Last month, 15 people were injured when a passenger train collided with a freight train in Turkey's central province of Sivas.