---
REUTERS, 30th JULY, 2017-The four Arab countries which have cut ties with Qatar said on Sunday they were ready for talks to tackle the dispute if Doha showed willingness to deal with their demands
The foreign ministers of Bahrain, Saudi Arabia, Egypt and the United Arab Emirates (UAE) met in the Bahraini capital Manama to discuss the crisis that has raised tensions across the region. Diplomatic efforts led by Kuwait and backed by Western powers have failed to end the dispute, in which the four states have severed travel and communications with Qatar.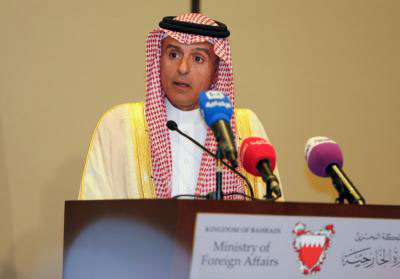 "The four countries are ready for dialogue with Qatar with the condition that it announces its sincere willingness to stop funding terrorism and extremism and its commitment to not interfere in other countries' foreign affairs and respond to the 13 demands," Bahrain's foreign minister, Sheikh Khalid bin Ahmed al-Khalifa, told a joint news conference after the meeting. They announced no new economic sanctions on the Gulf state.

Saudi Arabia, UAE, Egypt and Bahrain have previously issued a list of 13 demands for Qatar, which include curtailing its support for the Muslim Brotherhood, shutting down the Doha-based Al Jazeera channel, closing a Turkish military base and downgrading its relations with Gulf enemy Iran.