---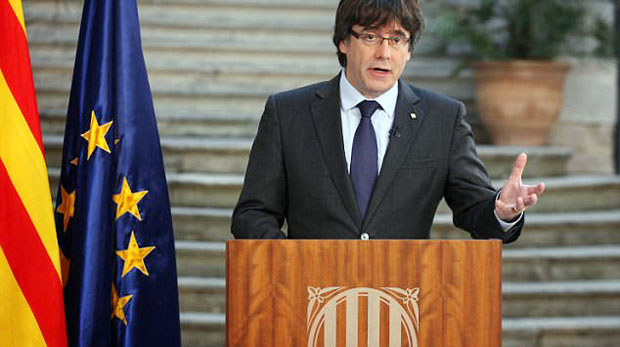 A judge in Madrid has jailed eight former Catalan regional ministers behind the failed independence bid over fears they will attempt to flee the country.

The Deputy First Minister and seven of his senior colleagues were taken to a jail on the outskirts of the capital Madrid after appearing before the Spanish High Court to answer charges of sedition, rebellion and misuse of public funds.

The region's former leader Carles Puigdemont – who fled to Brussels with four of his colleagues on Monday – tweeted: 'A long and fierce repression awaits us'.

A European arrest warrant was issued for Puigdemont along with the four others who failed to turn up in Madrid, newspaper La Vanguardia said.

Puigdemont's lawyer said his client would fully co-operate with Belgian authorities and was expecting a drawn-out extradition fight.

The Catalan ministers were sacked from their positions after the Spanish Government invoked Article 155 to seize control of the regional Government following an illegal referendum
on independence.

Those jailed overnight include the vice president Oriol Junqueras, Home Affairs Minister Joaquim Form, Foreign Affairs Minister Raul Romeva, Governance, Meritxell Borras, Presidency Jordi Tull, Social Affairs Minister Dolores Bassa, Justice Minister Carles Mundo and Terrotory Minister
Josep Rull.

- Madrid, (Daily Mail), 3 November 2017