---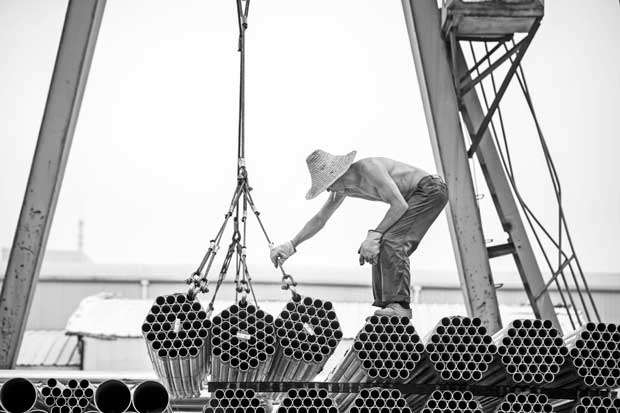 A worker supervises as bundles of steel pipe are lifted with a crane at a stockyard on the outskirts of Shanghai, (Bloomberg/ Qilai Shen)
Three months of rhetoric just became reality. The United States imposed the first duties on $34 billion in Chinese goods early Friday and China immediately retaliated, launching a commercial battle that analysts fear could shake markets and cramp global business.

As Beijing fired back with tariffs of its own, it accused the U.S. of violating WTO rules and setting off "the largest trade war in economic history to date."

The Asian nation slapped levies on an equal amount of American goods, including heartland staples like soybeans, corn, pork and poultry - a move President Donald Trump said would compel him to hit China with another round of duties on up to $500 billion in products.

The financial jousting prompted worry that the cost of a wide range of goods to soar.

"For industries that are directly impacted by the tariffs, the impact will be immediate and big," said Yanmei Xie, a China policy analyst at Gavekal Dragonomics, an economic research firm in Beijing.

But it's the risk of escalation - specifically Trump's $500 billion dollar threat, which would cover nearly all of China's exports to the U.S. - that has analysts worried. "The countdown is on as to what Trump will do next."

Despite frustration with Chinese trade practices, which require foreign firms to spill trade secrets to access the 1.3 billion-person market, U.S. businesses have warned for months that Trump's trade threats may do more harm than good.

(c) 2018, The Washington Post · BY Danielle Paquette, Emily Rauhala · Jul 06, 2018 - BEIJING