---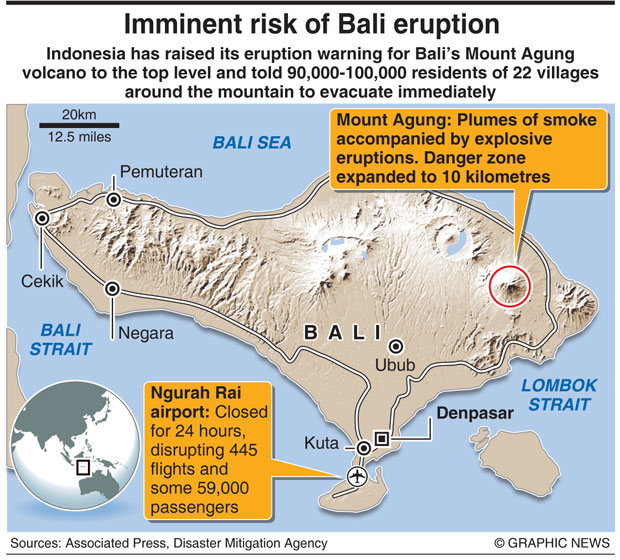 As many as 120,000 tourists have been stranded in Bali by the ongoing eruption of Mount Agung, with some put on flights leaving after Christmas.

The holiday island's airport remains shut for at least another 24 hours due to clouds of ash billowing from the volcano.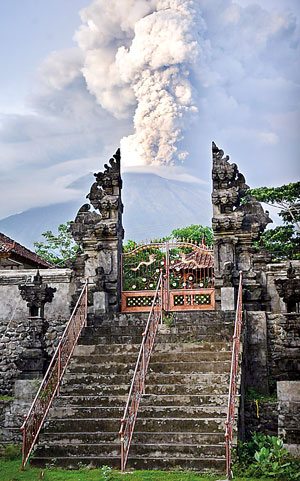 Today's extension of the airport closure means more than 900 flights have now been cancelled, leaving tens of thousands of travellers unable to leave Bali. Up to 100,000 villagers were told to move into evacuation shelters as a cloud of volcanic ash reached three kilometres into the air.

Indonesian volcanologist Gede Suantika said lava was building up inside Mount Agung and would spill over when it reached the edge.

That would result in a slow flow of red hot lava, but the volcano's steepness could lead to a more powerful eruption.

The pyroclastic flow from the 1963 eruption killed 1600, and authorities in Bali are preparing for the worst.

Cold lava flows, known as lahar, have already flooded the rivers and canals of nearby villages, but many locals ignoring warnings to leave the area.
Bali, (Daily Mail), 28 November 2017 -