---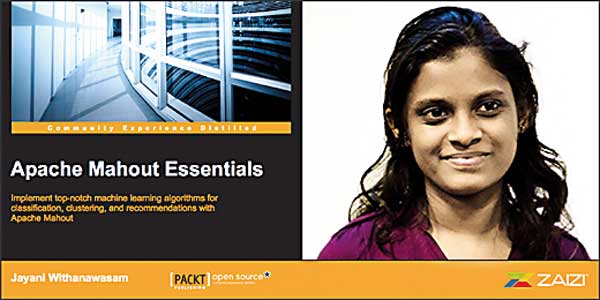 Award winning open source software consultancy Zaizi announced the release of the highly anticipated book 'Apache Mahout Essentials' by Jayani Withanawasam, Senior R&D Engineer at Zaizi.

Jayani focuses on applying machine learning techniques to provide smart content management solutions. Based in Zaizi's Colombo office, she has worked extensively on Apache Mahout and related technologies in building some of Zaizi's cutting edge solutions. She has also been selected to speak at many conferences on this topic and recently presented at Alfresco Summit where she presented on machine learning for Alfresco document management system.

Aingaran Pillai, CTO and Founder at Zaizi comments 'Jayani has been working in our R&D department at Zaizi where she focuses on building out our machine learning techniques to be able to provide our customers with advanced content analytics. Writing this book shows great determination and knowledge in this field and we are proud that we are continually using this expertise to get the best digital experiences for our customers.

Apache Mahout is a scalable machine learning library with algorithms for content clustering, classification, and recommendations. It empowers users to analyse patterns in large, diverse, and complex datasets faster and is more scalable. However, implementing a successful machine learning application using Apache Mahout requires skills

and knowledge that goes beyond the ability to perform basic programming.