---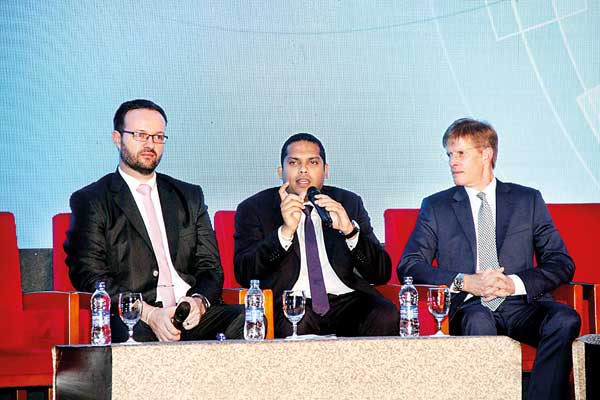 Microsoft Country Manager for Sri Lanka and Maldives Brian Kealey,Telecommunication and Digital infrastructure Minister Harin Fernando, Microsoft Asia Pacific and Japan Associate General Councel Jeff Bullwinkel
By Zahara Zuhair
Hoping to make Sri Lanka the next digital hub in the region, Telecommunication and Digital infrastructure Minister Harin Fernando said that initially they will be focusing on four key projects on their drive to digitize the whole economy, as a combine effort with the Microsoft.

He said that they will be looking at digitizing the government, parliament, the education system and the SME sectors.

Noting that his ministry has 64 projects lined-up for this year, the minister said that under this projects papers will be replaced by computers as it would be more productive and efficient and would create a common network for officers.

"For example when I sit down in the parliament, I have loads of papers lined on my table which I never take home, because it is a long walk to my vehicle back and it is a massive waste of papers.
Just imagine a simple example, digitizing the whole parliament, making it paperless is a big saving, it will make it more productive," he said addressing a press conference titled, 'Transforming to a Digital Government' held in BMICH recently.

He said when he spoke to Microsoft officials regards to this they were very keen to help the government to go forward with this approach as Microsoft has digitised the whole British parliament.
Commenting on digitizing the education system he said: "My dream is to have every student in Sri Lanka to study with a Microsoft surface board, the text books to be replaced with computers, the teachers could do the marking in the computers."

"I'm looking at starting a pilot project at doing it in 9 provinces - selecting one school in each province. I want to perform and show, replacing the text books from grade-5 up
to A-level, this children's one year education, how productive or how convenient it
would be.

This will be a pilot and then we can go forward to digitise the whole platform with the help of the government and private telecommunication companies," he said.

Sharing one of his experiences, he said when he went to a school in USA, the students were doing art on 3D computers which was phenomenal and unbelievable to him.He said that they will have the infrastructure ready by 2018, with top speed and coverage while trying to gear them selves to create at least 400,000 IT related jobs.

The minister stated that in the next two to three months they will offer a tender to launch a HTM card, which would digitalise the whole nation.
"Going forward we are going to digitise every citizen with a digitise card - called HTM, it can be used for many purposes, such as identification. You don't need to go to the ID office to get the ID, or birth certificate or any related work, all will be done through a smartphone," he said.

As they do not have proper access in to data within the government sector itself starting from the Grama Sewaka, he said through HTM they will connect 3,500 government officers together."So let's say even if you are in Badulla or even in Colombo, you just have a serial code where you can log in and take the data, therefore every data will be in the devices," he noted.
He revealed that the country looses more than Rs.150 million as a result of social welfare money not being transferred to the right people and with a digitized economy it will make sure that the right amount of money would be transferred to social welfare, school uniforms, the fertiliser subsidiary, etc.

In revelation of more plans, he said that they are planning to set up innovation centres, instead of the mere computer centres, which would focus in producing new softwares
and entrepreneurs.

"We are very keen to create innovation centres as we are hoping to identify in the first phase at least seven locations in Sri Lanka," he imparted.
Minister of Law and Order and Prime Minister's Chief of Staff Minister Sagala Ratnayake also was present at the event.

These projects are implemented as a result of the meeting between Prime Minister Ranil Wickremesinghe and Microsoft International President Jean-Philippe Courtois in Davos in January 2016, they said.