---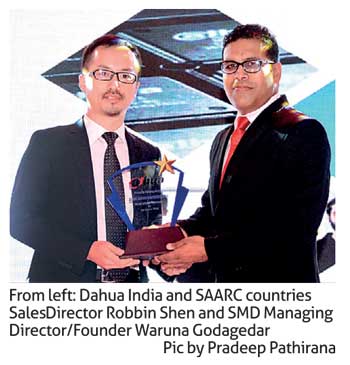 Sense Micro Distributors (SMD) partnered Zhejiang Dahua Technology Co., Ltd, a leading solution provider in the global video surveillance industry.

The partnership will allow SMD's extensive customer base to have access to the latest technologies in surveillance and security equipment. Having commenced operations in 2001, SMD has come a long way on a journey of success to become a leader in importing and selling high quality computer accessories within Sri Lanka. The partnership is geared for success given the fact that Dahua Technology was ranked fourth in Security Top 50 by a&s international, the leading international security magazine for professional buyers.

Commenting on the partnership, SMD Managing Director/Founder Waruna Godagedara stated: "We are excited about the future prospects that the partnership entails. The fast-paced, security conscious modern society requires cutting edge surveillance and monitoring technology to successfully challenge the realities of today's world. Partnering a world renowned expert in the field enables us to offer Sri Lankans the same technological edge that first world business entities and individuals enjoy in terms of surveillance and monitoring equipment. Through this alliance, we plan to aggressively market Dahua's multifarious security products in all major cities and towns in Sri Lanka. We also propose to educate our rural customers on the importance of security and drive home the need for safety. We look forward to many exciting projects and developments with Dahua in 2018 and beyond."

Sense Micro Distributors (SMD) has established its strong presence in the Sri Lankan market through partnerships with various global entities and continue to import a plethora of computer accessories. These include high quality routers, switches, access points, POE components, ADSL devices, WLAN devices CCTV line up, home automations, passive cables, UPS, hard disks, RAMs, internal cards, various cables, keyboards, mouse, flash drives, KVM switches, dongles, DVD writers, toner cartridges, ink cartridges, tablet PCs, microphones, speakers, virus guards, digital cameras and many more items.

Having begun operations with an ambitious vision and a small capital, SMD forged its way ahead with determination and defied many challenges to achieve success.
Disclosing the partnership, Dahua Technology India (Pvt.) Ltd India and SAARC Region Director Robbin Shen said: "We are glad to partner ourselves with Sense Micro Distributors, the leading and the most reputable company known for its dynamic distributorship and vast reach in Sri Lanka. We will leverage our ties in reaching out to a large section of hitherto untapped customers for our security solutions in this island nation for a mutually beneficial business relation."

Zhejiang Dahua Technology Co. Ltd is committed to providing the highest quality solutions and products with the latest technologies to enable end users to perform their business successfully. The company has more than 5,000 R&D engineers and technical staff working on cutting-edge technologies in camera lens, image sensor, video encoding and transmission, embedded processor, graphic processing, video analytics, software reliability, network security and other technologies.