---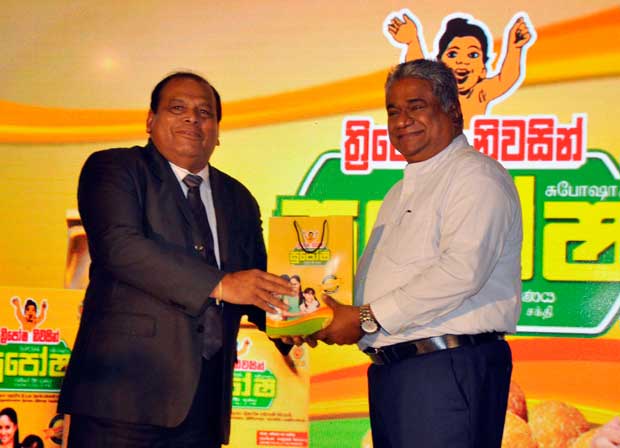 Sri Lanka Thriposha Ltd Chairman M.D Bandusena (left) presenting a Suposha pack to Deputy Minister of Health, Nutrition and Indigenous Medicine Faizal Cassim
By Zahara Zuhair
As a result of excess production of Thriposha, state-owned enterprise Sri Lanka Thriposha Ltd, under the supervision of the Ministry of Health introduced a new cereal named 'Suposha' to the domestic consumers recently.
The occasion which was graced by the Health, Nutrition and Indigenous Medicine Minister Dr. Rajitha Senaratne also saw the launch of its website.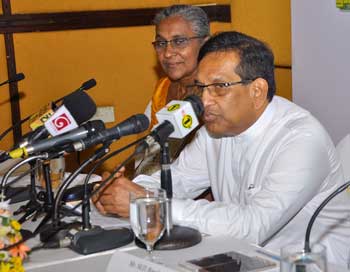 The intention of the introduction of this product is to provide the cereal to everyone which was limited only to expectant mothers as well as infants under the 'Freely distributed Thriposha' programme.
The cereal, 100 percent sourced from the local farmers in Sri Lanka, was recommended as an ideal nutritionally valued meal for breakfast, as it contained one of the B Vitamins - Folate, or, in its synthetic form, Folic that prevents neural tube defects (NTD).
Suposha supplement provides energy, protein and vitamins and minerals. It consists of locally grown maize, corn, soya, non-fat dried milk, minerals and vitamins.
"When I took over in 2015 we were able to fulfil only 80 percent of the requirement of Thriposha, because at that time the old machine introduced in 1979 was used for manufacturing. So knowing this former Health Minister and present President Maithripala Sirisena in 2014 allocated Rs. 250 million to buy a new machine to increase the productivity. In 2015-16 present Health Minister Senaratne assisted with Rs. 600 million to make it a reality. So today, the fund which covered only 80 percent of the requirement we were able to increase it up to 100 percent and also produce an excess," Sri Lanka Thriposha Ltd Chairman M.D Bandusena said at the launch.
"Minister Senarathna advised to put the excess to the open market to provide it to all school kids, and others at an affordable price," he said.
Current production of the Sri Lanka Thriposha Ltd. monthly has hit 2,700 metric tonnes. 1,800 metric tonnes is being distributed over 1.2 million beneficiaries islandwide under the Thriposha programme implemented with the support of the funds from the Department of Treasuries of the Government. The excess 900 metric tonnes is now being sold as Suposha.
It was noted that every year Thriposha programme distributes two packets per each recipient which adds up to over 2.4 million packets of Thriposha. Every recipient is being supported with 1.5 Kg of Thriposha monthly since the daily requirement is approximately 50 g per person that totals to 1,800 metric tonnes.
The Thriposha programme was initiated in Sri Lanka in 1973 with the assistance of USA having been imported as a finished food product from the USA, packed and distributed in Sri Lanka.
The programme thereafter was undertaken by the Ministry of Health in 1976, then selecting Ceylon Tobacco Company (CTC) as its management partner in 1979 where they bought machinery to produce the cereal in Sri Lanka itself.
Further to what the chairman mentioned, it was noted that new machines and several parts required for acceleration of Thriposha production were installed during the five years to double the production.
Accordingly, two proportionate mills were installed for separation of soya beans and maize into proper proportions which facilitated mixing of maize and soya beans at the rate of 66 percent and 30 percent respectively.
In 2014 the company has taken steps to install a 1350 Metric Tonnes capacity machine that was able to produce 75 percent of the requirement.
Additionally, Rs. 500 million has been further invested to install new machinery in 2015-2016 which resulted in increasing the production that helped the company to achieve excess production.
The modernised Thriposha factory situated in Kandana was opened by President Sirisena in December last year with the expectation of increasing capacity with modern equipment.