---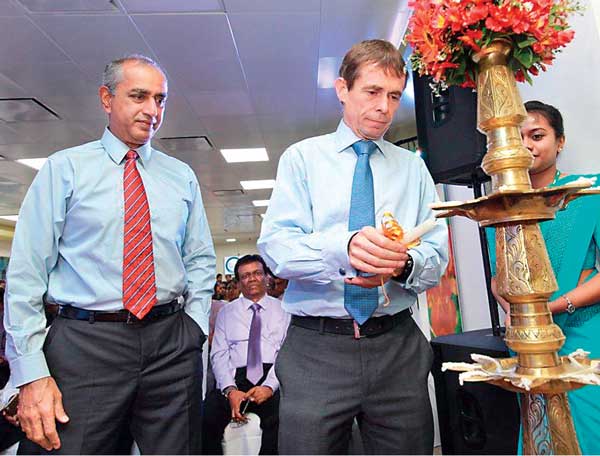 Hemas Group Chairman Husein Esufally and Hemas Group CEO Steven Enderby lighting the oil lamp to formally open the new wing and advanced facilities
Pioneering multi-chain healthcare provider, Hemas Hospital, announced the opening of an advanced new wing with enhanced facilities and the launch of several new surgical specialities at its Wattala facility recently.

The latest in a continuous strategy of investment and expansion from the company, the hospital's new wing will include a dedicated surgical ward comprised of 27 rooms designed in accordance with stringent international quality standards in addition to an expanded dialysis centre. In addition, Hemas Hospitals also launched the most up-to-date GI (Gastroenterology) centre, which will soon be converted in to the country's most advanced centre of excellence.
Parallel to the opening of its new wing, Hemas Hospital Wattala also launched a range of new surgical specialities ranging from urology and ENT, to orthopaedics, gastrointestinal and neurosurgery facilities, in addition to the installation of its latest state-of-the-art 128 slice CT scanner.
Senior representatives from Hemas Hospitals were in attendance to commemorate the landmark event including the event's chief guest Hemas Holdings Group Chief Executive Steven Enderby, together with Hemas Hospitals Chairman Murtaza Esufally and Managing Director Dr. Lakith Peiris together with respected officials from state sector institutions and distinguished invitees.
"The Hemas group has long been one of Sri Lanka's most respected diversified conglomerates. Over the past decade we have aggressively focused on developing opportunities for growth and particularly in the case of Hemas Hospitals, our goal has been to invest and expand our presence in regions outside of Colombo. In that regard, our investments into Hemas Hospital Wattala are a reflection of our deep commitment to continue expanding, developing and refining our brand," Enderby asserted.
"Having commenced operations as a secondary care provider eight years ago, Hemas Hospitals has rapidly evolved into one of Sri Lanka's leading tertiary care facilities. This evolution has been fuelled by a very real need for quality healthcare services, particularly in communities outside of Colombo. By expanding and enhancing our medical and surgical care, Hemas Hospital will be able to extend our services to a larger proportion of the community and this is a strategy that we will continue to develop moving forward," said Esufally.

The new surgical wing's systems and processes are purpose-designed to ensure stringent monitoring and care of patients at all times, thereby providing both doctors and patients with peace of mind, ensuring positive clinical outcomes and speedy recovery.
"Through the establishment of our latest wing, Hemas Hospital is now embarking on a bold journey towards the creation of true centres of excellence in healthcare not only to the people of Sri Lanka but also for patients from international markets.
"In this manner we aim to drive significant improvements in overall standards of care and provide convenient access to high-quality, affordable healthcare to people from all walks of life," Dr. Peiris explained.

The highly specialised new gastroenterology centre will be equipped with the most advanced technology and systems, leading to substantial improvements in quality of care and excellent clinical outcomes. Within a few weeks, Hemas Wattala will also introduce the most technologically advanced, state-of-the art 128 slice CT scanner which will significantly improve the standards of radiology in the Gampaha District. Parallel to these efforts, Hemas Hospital doubled its capacity of dialysis machines in expanding its dialysis services purely to provide a service to the growing demand.

Notably the hospital also upgraded its sterilization procedures by acquiring the latest cutting-edge technology by investing in instrument washer and plasma sterilizer. This significant investment was made purely to enhance patient safety. Hemas Hospital Wattala is the only private hospital in Sri Lanka to have made this investment, which shows their seriousness and commitment towards becoming the benchmark in quality, care and patient safety.

A subsidiary of the Hemas group, Hemas Hospitals is a multi-specialty hospital chain operating three full-service hospitals in Wattala, Galle and Thalawathugoda in addition to 36 fully-equipped laboratories. Providing community-based expert healthcare services in strategic locations outside of the country's main commercial hub, Hemas Hospitals has consistently raised standards in the domestic healthcare industry and was the first Sri Lankan hospital to secure international accreditation from the prestigious Australian Council for Healthcare Standards.