---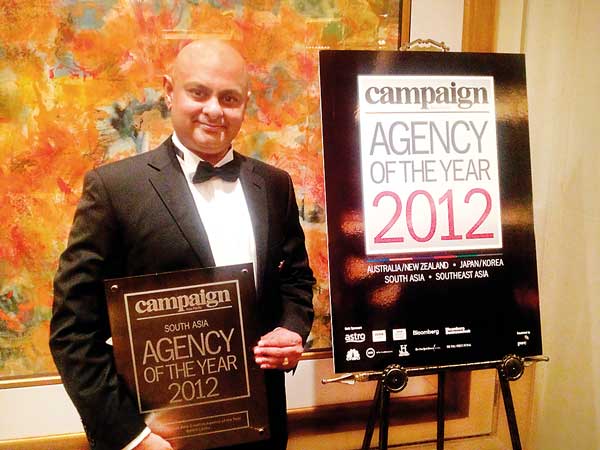 BBDO Lanka MD Santosh Menon with the Campaign Asia award in 2012

BBDO Lanka has been nominated for the coveted Rest of South Asia Creative Agency of the Year 2015 award presented by Campaign Asia-Pacific.
This is the second time that BBDO Lanka has entered the competition and been nominated for the award. In 2012, soon after completing only its first year of operations and in the inaugural year of the award being launched for the region of South Asia, it took home the Rest of South Asia Creative Agency of the Year – Silver. BBDO Lanka was also awarded the Agency of the Year award at its Effie Awards Sri Lanka debut in February this year.

Campaign Asia-Pacific's Agency of the Year awards, now in its twenty-second year, celebrates the achievements of the region's advertising industry. The awards recognise inspired leadership, management excellence, outstanding business performance and overall achievements in Asia Pacific's advertising and communication industries. The prestigious Agency of the Year competition recognises excellence in local markets through five separate regional competitions.
The judging panel comprises of senior marketers from key business categories and Campaign magazine editors. Entries were open to all media, advertising, creative, digital, PR, independent and specialist agencies from all countries in the Asia-Pacific region - whether big or small. Only work done during the period October 16, 2014 to October 6, 2015 was considered.

BBDO Lanka MD Santosh Menon said, "We are encouraged and heartened to have been nominated for the second time for Creative Agency of the Year on completing only four years of operations and competing against huge global ad brands in Sri Lanka and other countries. To be considered for this prestigious accolade is testimony to all the good work that we have done for our clients which include Fonterra Brands Lanka, CEAT, the One Million Tree Stories campaign for Rotary District 3220, HNB credit cards, Janashakthi Life Insurance and Lankem Robbialac. And I want to thank each of our clients for the opportunity to work on their businesses."

Campaign Asia-Pacific magazine focuses on analysing industry issues, reporting on trends and delivering expert industry opinions, case studies, plus heavyweight sector and platform reports. The monthly magazine dives deep into the key issues of the month, uncovering the performance of agencies and individuals, examining topical questions, giving essential career advice plus a 16-page section of industry insight.