---
SriLankan Airlines underlined its position as an employer of choice among Sri Lanka's corporate houses by winning two important accolades – HR Strategy In Line With Business and Training Excellence Award – at Asia Best Employer Brand Awards 2016 in Singapore on August 4.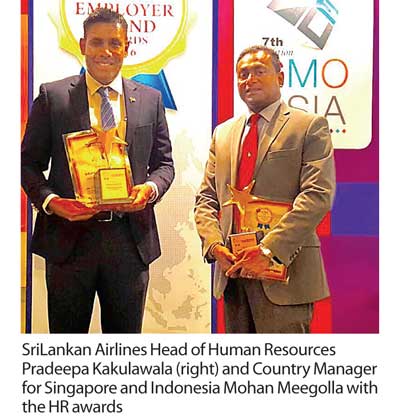 SriLankan Airlines CEO Captain Suren Ratwatte said, "Once again, SriLankan Airlines has demonstrated that its foundation is built upon a strong core of professionals. This is made possible by our dedicated HR team, which nurtures all of our employees throughout their careers and ensures that all of our employees are provided every opportunity to perform and shine. I am delighted that we have been recognised for our excellence in training as well. Aviation can be an unforgiving industry and it is only by having a highly motivated and well trained set of individuals' that we can succeed."
The Asia Best Employer Brand Awards chooses the best employers from among more than 40 countries throughout Asia, including Australia. The seventh edition of the awards took place at a glittering ceremony at Singapore's Pan Pacific.
SriLankan Airlines Director Colonel Sunil Peiris said, "My heartiest congratulations to the Human Resources team of SriLankan Airlines for their commitment to the highest standards of excellence in all areas of HR. They are a tribute to the HR profession and to our national carrier."
SriLankan Airlines Head of Human Resources Pradeepa Kekulawala said, "I consider winning these awards to be a true reflection of the positive engagement of SriLankan's human resources team and all stakeholders in management. This is the second time we have won the HR Strategy award, having won it two
years ago."
This is the latest of many international HR awards for SriLankan Airlines. Last year, it won the Excellence in Human Resources South Asia award from the Society of HR Management of India.
Sri Lanka's national carrier has built a strong brand for its best practices in human resource management. To be recognized by fellow industry professionals is very gratifying. The comprehensive processes and best practices in recruitment, selection, nurturing home-grown talent, building careers, bringing out the best in all employees, ensuring strong succession pools and encouraging employee participation throughout all of the company's activities are hallmarks of a strong and focused corporate identity.