---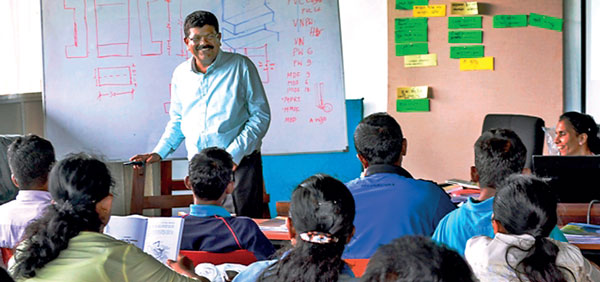 Leema Creations (Pvt.) Managing Director Channa Wijesekara at the training programme
Leema Creations (Pvt.) Ltd Managing Director Channa Wijesekara conducted a comprehensive training programme for the wood working instructors of the Vocational Training Authority (VTA) and Department of Technical Education and Training (DTET), at Leema's state-of-the-art manufacturing plant in Malinda, Kapugoda. It was in response to a request made by the Advanced Construction Training Academy (ACTA) and Training Institute for Technology Professionals (TITP) and covered all the major areas of the
wood sector.

Having understood that the training must be an integral part of the organisation's culture and the organisation's future, ACTA CEO/Executive Director Eng. Ashoka Jayasinghe, Director Indrani Perera and TITP Director D.K. Baminiwatta invited Leema Creations to assist in upgrading the knowledge and skills of wood working instructors, principally due to the availability of one of the most sophisticated manufacturing plants with modern machinery
and equipment.

Wijesekara, having obliged to the invitation, designed the training programme to ideally suit the participants.
Wijesekara, with his overseas exposure on training and recipient of Technical Teachers Certificate in Wood Technology from the Government of Germany in addition to the 37-year experience in the wood industry as a lecturer, manager, production manager, trainer and an entrepreneur, filled all the criteria for the knowledge-hungry participants.
Wijesekara, as a skilled trainer, believes in providing information and skills in a form that can be used immediately. "A clear link must be drawn between the knowledge given during training and the necessary skills that the employees will gain to perform their daily work. This way they will be more motivated to engage actively in the sessions and develop new skills,"
said Wijesekara.

Leema Creations currently is the leading interior solution provider in Sri Lanka, catering to elite corporates and upper-middle and high-end domiciliary clients in Sri Lanka. Leema's 60,000 square foot manufacturing facility possesses a range of staff highly skilled in the processes of designing, fabricating and installing furniture and interior decor.
Leema Creations (Pvt.) Ltd appreciates the initiative taken by Skills Development and Vocational Training Minister Mahinda Samarasinghe in respect of instructor training.