---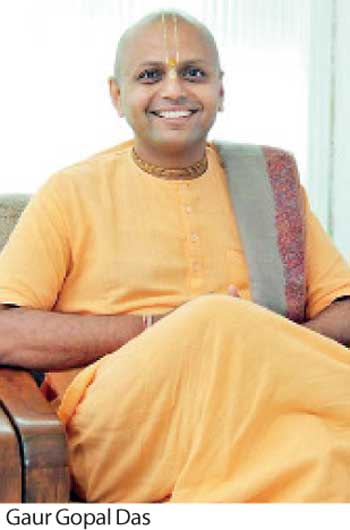 Internationally acclaimed motivational speaker Gaur Gopal Das is to speak in Sri Lanka in March for the first time.

Happiness can be the difference between a fulfilled and successful life and a disappointed existence. Happiness is elusive but important to humans if they wish to lead a life of purpose.

In our current lifestyles, we rarely focus attention on how happy we are and on being happy but the moment we are unhappy, we feel the difference and it negatively affects every aspect of our lives. We need support and a little push to put happiness at the top of our list.
Gaur Gopal Das is here to help you do exactly that. An internationally acclaimed motivational speaker and life coach, he is a skilled practitioner and coach of achieving and retaining happiness.

Hailing from Pune, India, he uses humour and simple language to explain complex matters of spirituality to people in the corporate world. His talks have helped many a CEO simplify larger problems and arrive at solutions.

Das has received multiple awards, including Adarsh Yuva Adhyatmik Guru Puraskar (Ideal Youth Spiritual Guru Award), Danveer Karna Award, Silver Creator Award and Rotary International's 'Super Achiever Award 16' for his work as a motivational speaker and life coach.

He can help you harness your happiness to achieve success and he will be in Colombo for the first time in March 2018.

Come and listen to Das speak at Taj Samudra, Colombo, on March 22 and 23, 2018 and be motivated to change your approach to life and happiness. Attend his Happiness Forum on March 22, from 10:00 a.m. to 4:00 p.m. where you will learn the secrets to 'improving organisational performance through happiness'. The session provides effective and tested tools with which to change your life.

He draws on learnings from case studies and research to provide these tools and the session is divided into two: Being successful and feeling successful, each dealing with different aspects of utilising happiness to achieve success, especially in the corporate world.

Attend the CEO Forum on March 23, from 8:30 a.m. to 10:00 a.m. to learn how to get '200 percent from your staff and the secrets of success'. The session will deal with attitude, adaptability and happiness within the corporate culture. CEOs can use these best practices to increase the productivity and performance of their employees so that the company can thrive.

This event is conceptualised by Avant Premiere (Pvt.) Ltd, a total event management solutions company specializing in signature events from strategy development to planning, managing and executing of events.

Wijeya Newspapers joins as the print partner. SriLankan Airlines is the airline partner for the event. ATOM Media partners this special event as the outdoor partner and Taj Samudra as the hospitality partner.

Limited seating available. Those interested may call 077 99 44 339 or e-mail to sales@avpr.lk to reserve your seats for this event.